Friday, January 3rd, 2014
Hemisphere GNSS, Inc. today announced that Chuck Joseph has been named President and Chief Executive Officer, effective immediately. Mr. Joseph has also been appointed to the Hemisphere GNSS Board of Directors.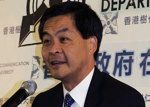 Monday, March 26th, 2012
Today, Hong Kong selected a self-made surveyor, Leun-Chun-ying, as their next chief executive. Leung studied surveying at Hong Kong Polytechnic and then later went to the United Kingdom, where he also earned a degree in real estate management...