Thursday, August 16th, 2012
Every Sunday morning, millions of people in India tune in to watch Bollywood star Aamir Khan host one of the country's highest-rated television shows, Satyamev Jayate. Only unlike so many popular programs, Satyamev Jayate doesn't involve a...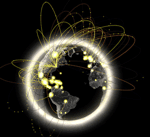 Friday, January 20th, 2012
Large volumes of data are being generated through sensors and the use of more and more computing and monitoring devices. The challenges of big data is that with larger datasets it become more difficult to catalog, store,...