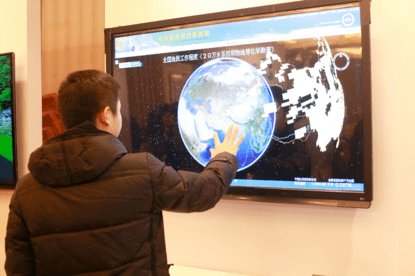 With the popular use of 3D technology, 3D GIS has broken the constraint that geospatial information can only be displayed on 2D plane, meanwhile it also inherits strong data management and space analysis function from 2D GIS, which is a tendency in many areas and industries.
Zondy Cyber's new product MapGIS IGSS 3D is a smart solution based on 3D geospatial information service sharing platform. By virtue of MapGIS IGSS service sharing framework and MapGIS TDE as its kernel, MapGIS IGSS 3D provides a comprehensive solution for 3D visualization, modeling and analysis of aerial, above-ground, ground surface and under-ground objects. It uses quickly build-up, on-demand service pattern to supply 3D GIS solution to all industries. The new pattern will be more efficient, convenient and practical.
Zondy Cyber Group is always focusing on the advancement of geographic information technology, the new product MapGIS IGSS 3D can provide geographic information services entirely and authoritatively.
Firstly, MapGIS gathers all information from aerial, above ground, ground surface and under-ground to create a geodatabase, and the integration management and display of geographic information can manage and edit geographic data easily, and it also can express the real world accurately;
Aerial visualization: which can simulate multiple spatio-temporal objects within atmosphere, and provide 3D visualized information such as sharing meteorological data, aviation orbit, satellite orbit, and environment simulation to different clients;
Above ground visualization: which can express information of all buildings and construct vivid and effective 3D scenes;
Ground surface visualization: which provides base surface information for aerial, above ground and under-ground by sharing terrain information;
Under-ground visualization: which recurs true scenes of under-ground tunnels, metros and under-ground architecture by spatial information modeling and analysis technology.
Secondly, MapGIS offers abundant 3D modeling tools and professional analysis tools, these tools can help different users to analyze deeply, gain a greater understanding of their geographic data, and facilitate them to make more informed high-level decisions;
Provide 3D modeling tools for common objects in reality, such as regular buildings, various kinds of roads, all kinds of pipelines;
Use spatial non-uniform property distributed information to build 3D volume model, and the model can be used in special industries, such as in meteorology and mining.
Provide abundant professional terrain analysis function in 3D scene, which can expand the application of 3D GIS on terrain analysis. For example, acquire information of terrain by interactive query, which can improve the accuracy of decision.
Thirdly, MapGIS provides visualized development environment and a secondary development platform. Users can pay more attention to professional process analysis instead of complicated coding work;
3D Life on The Way
MapGIS technical staff showed the use of MapGIS IGSS 3D on different areas in the conference, let's take the application in land resources management as a simple example:
Count and show disaster information in graph or report forms;
Analyze historical data to forecast disaster;
Integrate the geographic information, and share multi-dimensional data with high efficiency.
3D GIS is also used in city construction, environmental monitoring, and climate prediction and so on. All MapGIS fans were impressed by the glamour of MapGIS IGSS 3D, and they believe that 3D GIS will improve their life quality and bring them into new technology exploration. More and more ordinary people can make use of professional 3D geographic information services conveniently in the near future.