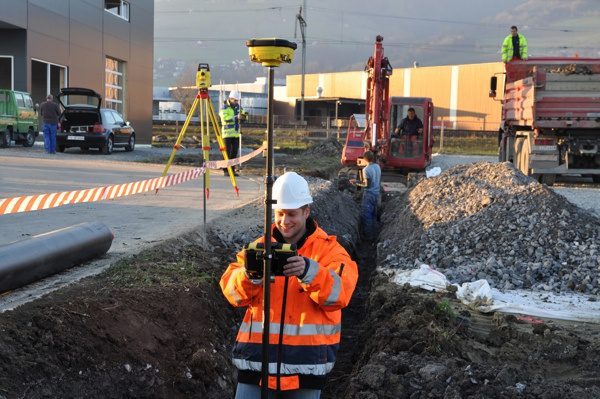 'Roading' Application
The new Roading application is an option for the iCON build and iCON site software. It is also available for the Leica iCON CC60/61 controllers with their 7" inch large display. Roading enables users to stakeout individual road lines and slope elements providing different views for easy and straightforward use. A new cross-section view mode gives users a good visual impression of the road profile at the current measured position. Together with the split screen option, it is possible to achieve the best possible overview of the current position and the road model. Roading allows contractors to use the same data on the machine and on the field controller. This ensures that the same design data is being used for construction and in addition reduces time for data preparation.
Easy Stakeout with Selection of Arrow Views and Orientation Options
To improve and simplify the stake out workflow of points, a new arrow view and different orientation options with clear and easy-to-understand graphics have been introduced for iCONstruct v1.5. With these new guidance options users can select their favorites to increase the speed when staking out design points. Different orientation options are available for the iCON robot 50 and the iCON gps 60.
Coordinate Systems via SmartNet
Users working with a Leica iCON gps 60 antenna can now receive coordinate systems via the RTCM v3.1. message format using the SmartNet network RTK correction service powered by Leica Geosystems.
Further Enhancements
iCONstruct v1.5 provides various other new features that will enhance productivity such as:
Point Search Function (by ID, code or elevation)
Report generation out of volume calculations on-site
Direct DXF import with text support, block handling, background image, etc. without conversion
More Languages are Supported
iCONstruct v1.5 now supports six additional languages: Russian, Japanese, Estonian, Latvian, Lithuanian and Serbian
Availability
The updated iCONstruct v1.5 software is immediately available and free of charge. Ordering information is available from all authorized Leica Geosystems representatives.
For more information about the Leica iCON – intelligent CONstruction portfolio, please visit:
http://www.leica-geosystems.com/icon.
About Leica iCON – intelligent CONstruction
Leica iCON is a pioneering, comprehensive portfolio of tailor-made positioning and measuring solutions for construction professionals. It changes the way construction tasks are performed on site by offering new technology that significantly optimizes construction workflow efficiency.
Leica Geosystems – when it has to be right
With close to 200 years of experience pioneering solutions to measure the world, Leica Geosystems products and services are trusted by professionals worldwide to help them capture, analyze, and present spatial information. Leica Geosystems is best known for its broad array of products that capture accurately, model quickly, analyze easily, and visualize and present spatial information.
Those who use Leica Geosystems products every day trust them for their dependability, the value they deliver, and the superior customer support. Based in Heerbrugg, Switzerland, Leica Geosystems is a global company with tens of thousands of customers supported by more than 3,500 employees in 28 countries and hundreds of partners located in more than 120 countries around the world. Leica Geosystems is part of the Hexagon Group, Sweden.