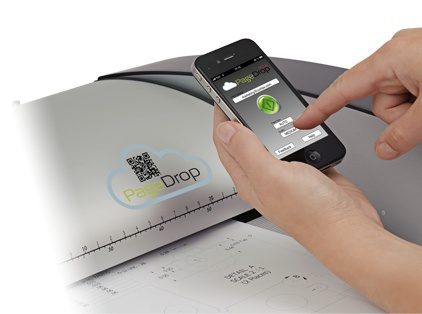 "PageDrop is revolutionary in the wide format scanning market. It provides more convenience using today's latest tools and technologies, untethering the user from the PC," comments Steve Blanken, GM, Contex Americas.
PageDrop eliminates the need for scanning software or PCs to process single page, wide format scans. With Contex's GB Ethernet access on its scanners, scanned images are quickly converted to PDF and distributed through the network and its cloud services. A built-in security feature requires mobile users to be in close proximity of the scanner to use PageDrop. Preferences stay with the mobile device, placing the scanned documents directly where the user needs them, every time.
Contact your local Contex distributor to begin using PageDrop. To locate a distributor, call Contex at 703-964-9850.
About Contex
As the world's largest developer and producer of large format imaging solutions, Contex leads the market with innovative technology and advanced scan and copy software applications. Over the years, Contex scanners have received numerous awards from leading trade publications and analyst firms including Cadalyst, Wide-Format Imaging, and BERTL. Sold worldwide in more than 90 countries, Contex solutions are recognized in a wide range of industries for reliability, value, high performance, and superb image quality. For more information, please visit www.contex.com.