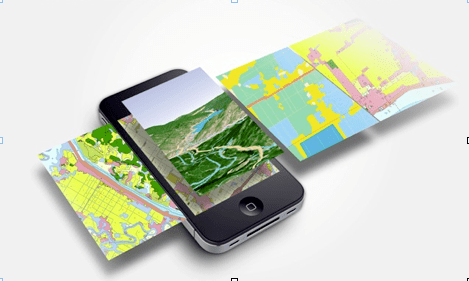 As a matter of fact, GIS application is deeply connected with our daily life. For example, GIS is widely used in electricity generation and transmission, distribution and dispatching to facilitate more efficient electricity engineering operation, so as to ensure daily electricity supply for the public. GIS also plays an important role in hydraulic engineering by realizing the intelligent management of water pipelines, water resource dispatching and other areas like flood prevention. In the downtown area, there may be a valiant policeman running after a thief. On that occasion, the police officer can use a "police affair helper"–one kind of E-tools based on mobile GIS—to search for the possible streets the thief may go to and make early preparation on those streets to catch the thief more easily.
All this proves that mobile GIS technology is more and more popular in our daily life. As mobile internet has great positive effect on social transformation, the popularity of mobile intelligent terminals also changes information acquisition methods and service patterns.
The highly developed mobile internet and mobile intelligent terminals make our life go increasingly mobile. It is easier for us to acquire geographic information and get better served just by using the mobile terminals. This cloud-to-terminal GIS service will give us more freedom in information and service sharing.
MapGIS Mobile 9 serials act as a technological bridge connecting the terminal and the cloud. Based on MapGIS IGSS, vast geographic and spatial information service oriented towards specific industries and public use are provided, including undifferentiated on-line and off-line GIS services, to build complete application solutions. With MapGIS Mobile 9 serials, you are equivalent of a blueprint designer who can better use spatial information for decision making and service sharing.
Oriented toward a new generation of mobile GIS application, MapGIS Mobile 9 serials support the currently mainstream mobile terminals such as Android, iOS, Windows Mobile, Windows Phone and provide on-line and off-line application anytime and anywhere. On the one hand, MapGIS Mobile 9 serials can realize efficient multi-source geographic information data management by supporting various data formats such as vector data, raster data, elevation data and 3D modeling data.
Based on MapGIS IGSS, MapGIS Mobile 9 serials make efficient mobile GIS service come true by integrating 3S service on mobile terminals. They can realize integrated management of dynamic traffic information and facilitates rapid satellite location and projection transformation. On the other hand, MapGIS Mobile 9 serials enhance visualization function for geographic information and user information. Standard service interfaces and multi-level development interfaces are provided for customizations and better user experience. With the complete integration of wireless transmission, mobile computing and location-base services in mobile terminals, better functions are provided includes location search, automatic data synchronism, route deviation-rectifying and navigation, intelligent map visualization, message notices. With real-time data analysis and process, users can get the best visualization results that meet their demands. Zondy Cyber Group has been making unremitting efforts to promote the development of spatial information technology and create value for customers. The introduction of MapGIS Mobile 9 serials improve user experience and present more efficient GIS service and detailed information, as well as the latest thinking pattern and industry development. Therefore, what is the core value of MapGIS Mobile 9 serials?
Good User Experience
Great changes have taken place on traditional software operation and service models with the development of mobile terminals. Traditional functions of map visualization, data synchronism and transmission, information visualization, interface interaction give birth to a lot of new features. Based on MapGIS Mobile 9 serials, developers can rapidly integrate spatial information management, software interaction, and user experience and news notification into user applications to provide the users with courteous and considerate service. MapGIS Mobile 9 serials are equipped with abundant functional components and mobile computing capacity, thus making mobile application not only display different information, but also shoulder the responsibility of independent computing and service.
Cost-effective GIS Application Extension
MapGIS Mobile 9 serials conform to current requirements of the mobile era and provide professional platform for rapidly building mobile applications. The toolset and the development methods of the platform can integrate and share data, service and business information. MapGIS Mobile 9 serials optimize interactive design, increase information display method and language selections. All this makes it possible for clients to rapidly design specific industrial solution to meet their own requirements. Clients can also choose service components and business middleware from existing application development models for integration and expansion, which is definitely cost-effective and cycle-time reduction.
Connecting Bulk Services Innovatively
MapGIS Mobile 9 serials realize vast resources and services sharing by integrating location-based data, wireless communications, mobile computing, and cloud GIS, together with many other professional information resources. Clients can develop new business models with user-friendly configuration methods.
Based on MapGIS Mobile 9 Platform, Zondy Cyber Group has successfully developed a series of mobile tools include land helper, inspection helper, data acquisition helper, pipe network helper, comprehensive dispatching platform, mobile police helper, intelligent 3G police affairs management system, industrial and commercial law enforcement helper. All these tools are applied in areas like mobile data acquisition, mobile resource monitoring, comprehensive operation and dispatching, mobile law enforcement in an all round way.
Mobile GIS is currently exerting profound impact on the whole world. It is believed that people from every corner of the world will share the benefits provided by mobile GIS application in the near future. MapGIS Mobile 9, a new generation of mobile GIS, will present you with geographic value anywhere and anytime.
Please contact zondyibd@mapgis.net for further information.