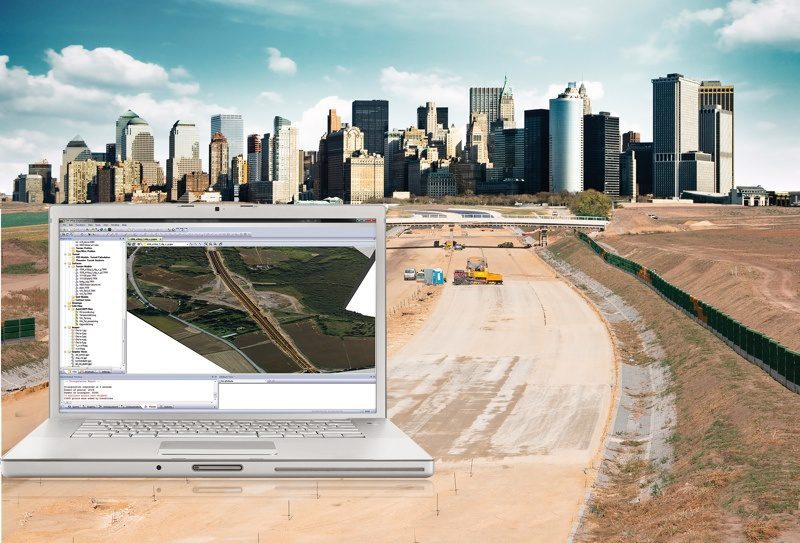 Easy Communication
Leica iCON office enables communication with instruments and external field computers for transmitting and receiving data. The office software communicates seamlessly with the Leica iCON CC50 and CC60/61 field controller, and the MPC1310 machine control computer. 

A Wide Range of Standard Functions
As standard, Leica iCON office contains all necessary features to prepare and process data including surveying and stake-out, coordinate calculation, graphical editing, drawings and 3D graphics. 

The integrated graphic tool allows editing of baselines, offsets, intersections, and area and volume calculations. Leica iCON office also provides sophisticated drawing functions allowing to work directly with AutoCAD® files. Users can display all files with height information in a 3D view including road lines with height profile, terrain models, cross-sections and AutoCAD® files. Design data can also be visualized on Google Earth™.
In addition, the data import and export provides easy-to-use routines to convert files to a variety of formats. The import/export function supports formats such as AutoCAD® DXF/DWG, SOSI, MX Genio, Atlas 2000, AutoKa PC, KOF, Ispol, Bever, AnPakke and LandXML.

Leica iCON office works with a range of different design models that users can send to all construction machines and sensors from one single software package.
Leica iCON office supports digitizing hardware, such as Summagraphics, Ushikata, Calcomp. So users can digitize drawings and receive immediately results – graphically or numerically.
Cost Estimates and Quality Control Reporting
Contractors will also benefit from calculating as-built cost estimates using volume analysis. This module can also be used to create terrain profiles and cross-sections. Furthermore, various standard reports are available for quick and easy quality control reporting. Statistical checks and tolerance reports of deviations can be generated at a click of a button.
Additional Modules
Besides the standard functions, Leica iCON office offers the following supplementary modules in order to meet operations-specific requirements. Contractors can buy a tailor-made module system and simply pay for the functions they really need and use. The modules are:
Tunnel
Road Lines
Terrain
Volume Calculation
Net Adjustment
Availability
Leica iCON office is immediately available. More information is available from the local Leica Geosystems sales representatives.
For more information about Leica iCON office and the complete Leica iCON portfolio please visit: http://www.leica-geosystems.com/icon .