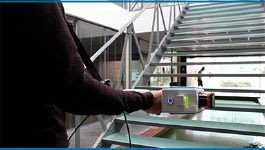 Chartered surveyors are beginning to adopt it because, while the missions are to draw simple floor plans or make quantity surveys (for legal reports of construction progress for instance), the continuous 2D scanner for interior (and exterior*) becomes the tool to use because it is fast and easy to produce results.
Differentiated from all others technologies, our system is built to answer to the usual
and rising rendering works as well as the processes to achieve them. Among all behaviors and features we have taken care to match as close as possible your profession:
Scan is continuous for a whole floor, no assembling needed before going to rendering step
it embeds panoramic  pictures to increase further human interpretation in the rendering
The scan density is fully appropriate to building professions accuracy (1cm/m)
You operate at the speed of walk, surveying up to 5000 m2 / hour
The scan is totally compatible with the drawing and modeling softwares
The scan gives a horizontal profile and vertical profiles taken on demand
during the progression into the building to achieve a complete and relevant
drawing rendering
Wearing an IMU (Attitude and Heading Unit – Inertial Measurement Unit), the iMS 2D
corrects slopes taken by the operator in the most situations.
Learn more at www.viametris.com