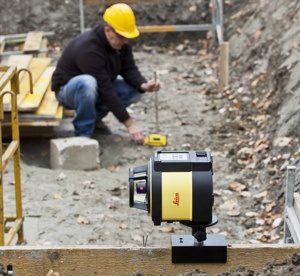 For many years, Leica Rugby rotating lasers are recognized to belong to the most reliable family of construction lasers in the market. The new Rugby construction lasers are designed from the ground up and even surpass their predecessors. The flagship of the four models being introduced to the market is the versatile Leica Rugby 840, a multipurpose horizontal/vertical laser for all leveling, aligning and squaring applications with an automatic calibration feature to ensure highest accuracy and reliability.
The Toughest Construction Lasers in the Market 
The new Leica Rugby Series are the only lasers in the industry with a military grade certification (MIL-STD 810G) and IP68 rating. The robust design makes them the toughest in the market today to deliver reliable and accurate results even in the harshest jobsite conditions.

Intelligent Automatic Positioning 
With the touch of a button, the intelligent 'Smart Targeting' functionality allows construction workers to tie-in slopes (in single and dual axis) and to align the beam in vertical automatically. Once the laser is setup on the starting point the second point can be positioned automatically by using the new Leica Rod Eye laser receiver without the need to walk back to the laser or using a separate remote control.

Error-free Real-time Monitoring and Correction of the Laser Plane
With 'Smart Lock' the laser plane is continuously monitored in real-time eliminating errors, giving users the necessary peace of mind. Should the laser plane move out of tolerance, the laser will indicate the movement with an alarm. This functionality is ideal for batter board and façade applications that require a fixed installation of the system and the laser plane to stay exactly in place all day long. 
Additionally, the new 'Maximum Temperature Stability' technology always provides the highest accuracy throughout the day over the entire working range without drifting.
Charging the Battery Anywhere Anytime with Unique Power Concept
The new generation of Lithium-Ion battery is unbreakable. Throughout the new Leica Rugby family, the battery packs (Alkaline and Li-Ion) are interchangeable and can be charged anywhere anytime on site. The new Leica Rugbys also set a new standard in environmental friendly energy management using a solar panel to run and charge the laser that can be simply attached to the carrying case.

Lifetime Manufacturer's Warranty, 5 Years No Cost and 2 Years Knockdown Warranty
Customers will benefit from the unique PROTECT by Leica Geosystems service offering. The warranty covers the entire product lifetime including free of charge repair or replacement for all products that suffer defects as a result of faults in materials or manufacturing. The 5 Year No Cost period includes the repair or replacement of all defective parts including labour time, adjustment and calibration. Should any knockdown occur within two years, all repairs to the internal self-levelling assembly will be covered under the warranty policy.
Availability
The new Leica Rugby 800 Series is available in March in the EMEA Sales Region, in all other countries in April 2013. More details and ordering information can be obtained from all authorized Leica Geosystems construction tools distribution partners.

For more information about the new Leica Rugby construction lasers and PROTECT by Leica Geosystems service offerings, please visit: http://www.leica-geosystems.com/rugby_800