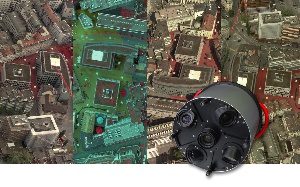 Based on the leading Leica RCD30, the world's first 60MP multi-spectral medium format camera, the Leica RCD30 Oblique provides a number of unique photogrammetric design features that not only offer superior image quality and highest accuracy, but also highest flexibility.
The Leica RCD30 Oblique allows a trio and penta head configuration for corridor mapping and urban mapping applications. Customers have a choice of CH61 RGB only and CH62 multispectral
RGBN camera heads. For highest image quality the RCD30 Oblique provides multi-directional motion compensation.

The camera system is fully integrated into the proven Leica Geosystems workflow including Leica MissionPro, Leica FCMS, Leica IPAS and Leica FramePro. The system can be operated in the Leica PAV80 gyro-stabilized mount, thus offering full image stabilization in pitch, roll and drift.
More information about the Leica RCD30 Oblique please visit:
http://www.leica-geosystems.com/rcd30_oblique .
About Leica Geosystems' Airborne Solutions
With over 80 years of experience, Leica Geosystems is a global leader in the design, delivery and support of airborne digital and LiDAR sensors for the geospatial marketplace. Along with the well-known Leica RC30, Leica Geosystems' airborne sensor portfolio today includes a wide range of innovative technologies and products such as the Leica RCD30 series of medium format digital frame cameras, the Leica ADS pushbroom sensors, the Leica ALS LiDAR series, and the Leica IPAS GNSS/IMU solutions.
Following the acquisition of Intergraph by Hexagon in 2010, Hexagon Geosystems' newly formed Geospatial Solutions Division has brought together Leica Geosystems Airborne Sensors and Z/I Imaging. Committed to continued innovation on all major product lines, the combined airborne sensor portfolio includes the widest range of medium and large format imaging as well as LiDAR technologies and offers a choice of sensor for every application. A full suite of software from flight planning to post-processing provides end-to-end workflow for high accuracy orthophoto generation, feature extraction and map production. In addition, Hexagon Geosystems operates a global network of customer service and support centers to ensure highest productivity around the clock.
Leica Geosystems – when it has to be right
With close to 200 years of experience pioneering solutions to measure the world, Leica Geosystems products and services are trusted by professionals worldwide to help them capture, analyze, and present spatial information. Leica Geosystems is best known for its broad array of products that capture accurately, model quickly, analyze easily, and visualize and present spatial information.
Those who use Leica Geosystems products every day trust them for their dependability, the value they deliver, and the superior customer support. Based in Heerbrugg, Switzerland, Leica Geosystems is a global company with tens of thousands of customers supported by more than 3,500 employees in 28 countries and hundreds of partners located in more than 120 countries around the world. Leica Geosystems is part of the Hexagon Group, Sweden.