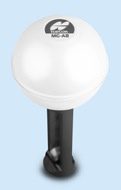 The MG-A8 antenna can be used in DGPS mode for meter level navigation purposes but can also be used for RTK centimeter level positioning in areas where there is a network of reference stations available to support this level of precision. With its RTK capabilities, the MG-A8 is a "preferred solution for applications such as dredging in inland river channels and waterways," said Tom Morris, TPS senior product development manager.
"This antenna is designed with challenging marine applications in mind. It is accurate, rugged, reliable and affordable."
Topcon Positioning Systems, Inc. (TPS) designs and manufactures precise positioning products and solutions for the global surveying, construction, agriculture, civil engineering, mapping and GIS, asset management and mobile control markets. TPS' parent company, Topcon Corporation (Tokyo Stock Exchange – 7732), was founded in 1932.