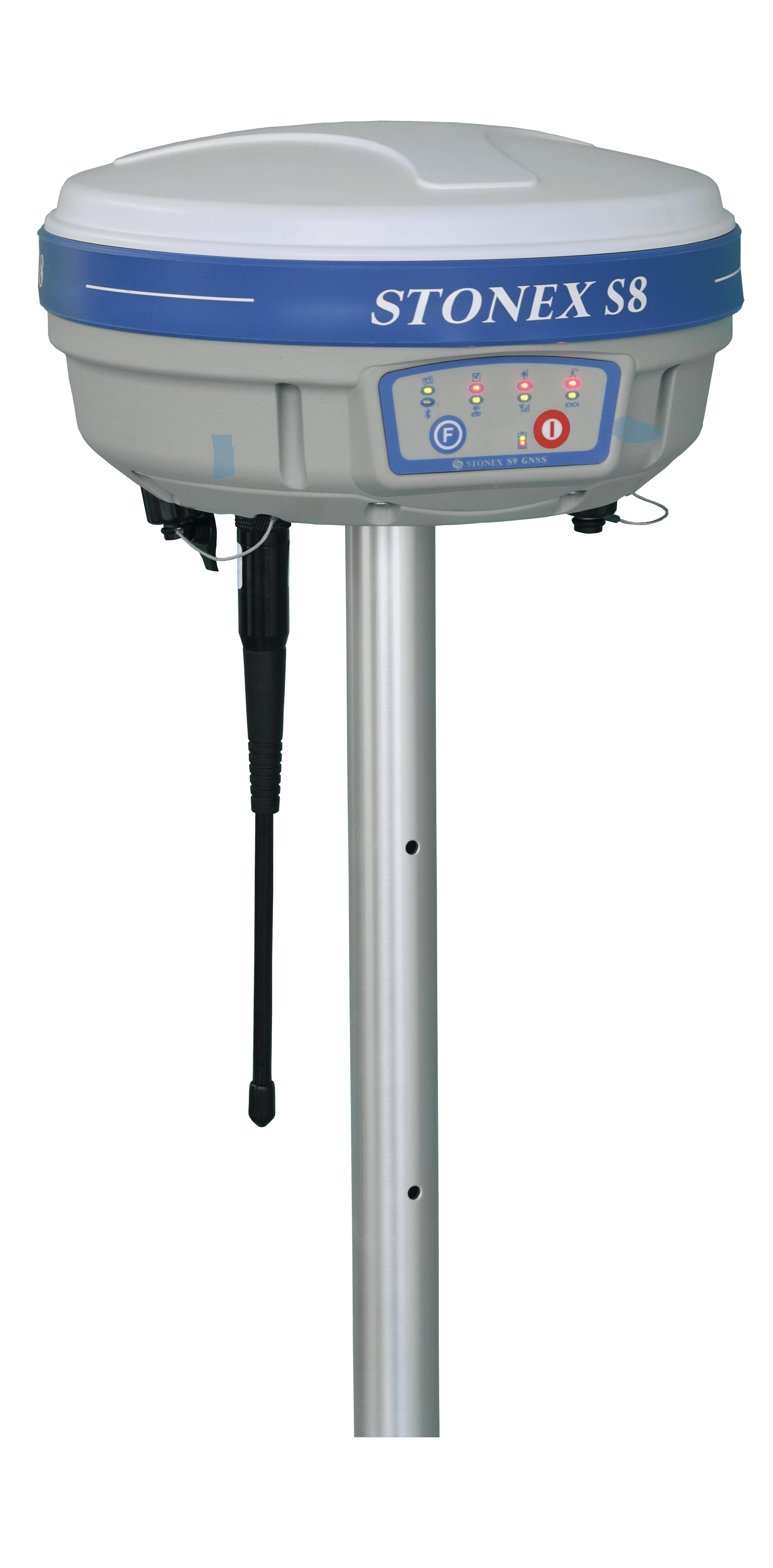 The receiver S8 is proposed as an instrument ready to offer new professional opportunities for surveying. Designed and developed by R&D department of STONEX®Europe, the new instrument completes the range of receivers and placing, both in terms of functions and in the quality/price ratio, between the top of the range S9III and S7.
The design incorporates the forms of the top of range S9III and it mounts the new control panel with some practical and intuitive functionalities. The new case is compact and lightweight, only 1.2 kg, ensuring ease of transport in work areas. Revised also the lowest part cover in aluminum, allowing a better heat dissipation for the radio modem internal. The hermetic closing of mechanical guarantee instead an excellent waterproof, a shock resistance and dustproof (the system is IP67 certified).
The S8 integrates a 120 channels GNSS board with accurate and quick satellite fixing, a UHF internal transmitting and receiving radio, a GSM/GPRS module for network connection generating differential correction (VRS, FKP, etc.) and a Bluetooth device for wireless purposes. The receiver is delivered full of accessories for Rover/Base applications.
The S8 reception of GPS/GLONASS satellite is supported by an antenna inserted on the top part of instrument, and specifically conceived to reduce variations of phase center position, improving observation accuracy. In the lowest part of the instrument is placed the battery (2500mAh Li-Ion high capacity) and the radio, which includes a frequency range between 410 to 470 MHz
Identical to the S9III characteristics, also S8 has been improved the thermal stability and the power consumption, ensuring high performance on operations field. The performances of data transfer over radio UHF provide advanced technological levels, reducing the error rate (BER) at the maximum value of 10-7. The UHF antenna supplied with the receiver has a bandwidth of 20 MHZ, allowing constant gain in the entire operating band. The integrated radio modem has selectable output power of 0.5 W and 1W with the option to add an external higher power. The S8 GNSS of STONEX®Europe is also compatible with the most popular handsets, thanks to the wireless modem which also includes the format TRIMTALK™.
The receiver S8, as well as the full range of instruments GPS/GNSS is absolutely integrated with the mobile software CUBE* for GNSS surveys, developed and manufactured by STONEX, indispensable instrument for the daily work of the professional.
*S8 receiver and Cube software could be sold separately and they work autonomously.
Stonex ® Europe srl is a multinational company, based in Lissone (MB), which deals with the design and manufacture of surveying instruments for high precision applications in civil engineering, surveying, security, transport and mining. Stonex Europe is always characterized by its high standards of quality, precision, efficiency and reliability, allowing each project to become a landmark ageless. The company operates in over fifty countries, with a full range of products through a network of highly qualified distributors and resellers.