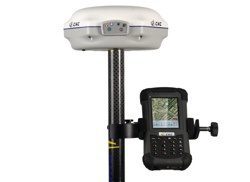 "The X900+ series is the answer to the recurrent market demand of having a cost-effective yet future proof GNSS technology versus the commonly available GPS+GLONASS architecture." says George Zhao, CEO of CHC. "The X900+ GNSS Solution is offering an exceptional performances to price ratio."
The X900+ is proposed in various bundled packages to fit end users' need with a choice of various data collection software (CHC's Landstar and Carlson's SurvCE) and handheld controllers (CHC's LT30 and Getac PS236).
The X900+ series is available from August 2012 through CHC's distribution channel worldwide.
About CHC Navigation
CHC designs, manufactures and markets a wide range of professional GPS/GNSS solutions. Headquartered in Shanghai (China) CHC is a leading GPS/GNSS Chinese manufacturer with a strong international presence and employs more than 500 people worldwide. For more information, visit www.chcnav.com