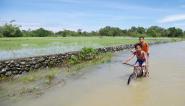 The Department of Science and Technology's (DOST), under its Disaster Risk and Exposure Assessment for Mitigation (DREAM) project, turned over the copy of the province's digital terrain model, digital surface model and orthophotograph to the Palawan and Puerto Princesa government, reports CNN.
According to Dr. Enrico C. Paringit, program leader of the University of the Philippines' (UP) DREAM program, the said topographic maps will be used in flood modeling of disaster-risk prone areas in Palawan.
"By the end of the year, we are going to complete the hazard maps, including the flood early warning system which alerts the community six hours before flooding occurs," he said to CNN.
Aside from disaster management, Paringit said that local government units (LGU) can also use the map in creating its comprehensive land use plan and comprehensive development plan.