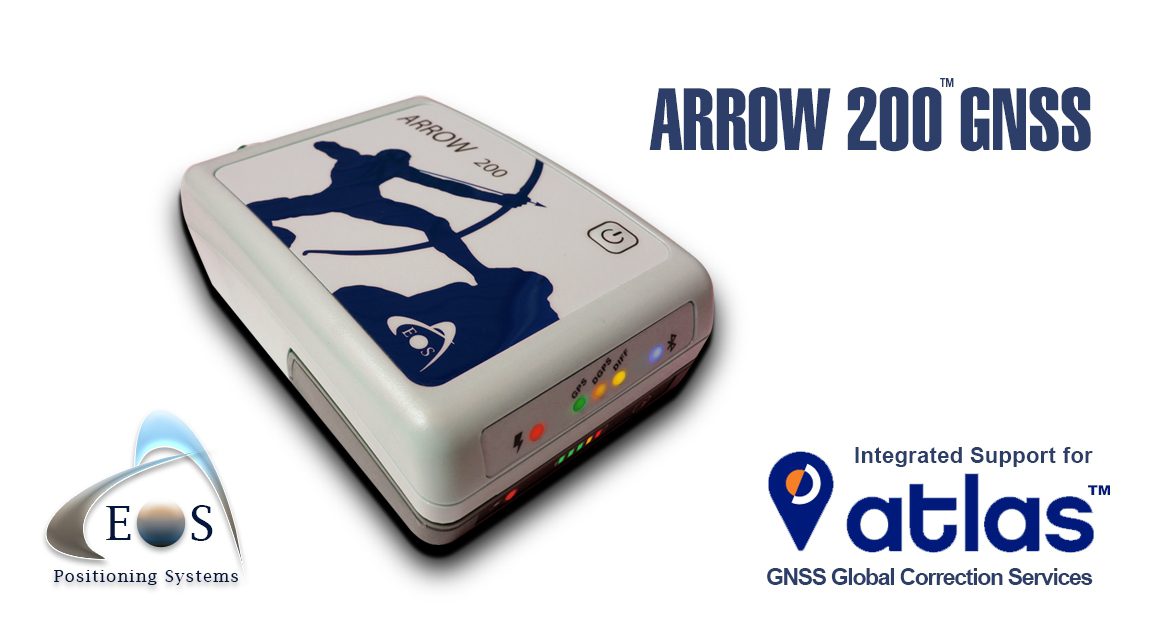 Terrebonne, Quebec, Canada, Aug. 12, 2015—Eos Positioning Systems announces that its Arrow 200 Bluetooth GNSS receiver now supports the new Atlas H-10 GNSS correction service. Using the H-10 service, the Arrow 200 GNSS receiver is able to achieve 8cm accuracy, in real-time, virtually anywhere in the world. The H-10 corrections are delivered by geostationary satellite or via internet connection.
The Hemisphere GNSS Atlas H-10 correction service, announced in June, is a revolutionary real-time correction service that meets or exceeds existing correction services and offers market-leading pricing.
"Eos is proud to introduce the first GNSS receiver that supports the H-10 service," said Chief Technology Officer Jean-Yves Lauture. "It will allow our customers in every country in the world to have access to sub-decimeter realtime accuracy on all mobile platforms, including iOS, Android and Windows devices."
The H-10 correction service and the Arrow 200, support all active constellations including GPS, Glonass, Galileo, Beidou and QZSS, giving the user ultra-fast convergence time to real-time decimeter accuracy.
The Arrow 200 employs long-range (1km) universal Bluetooth connectivity so the user can interface to any brand of smartphone or tablet, whether it's iOS, Android, or Windows-based. The Arrow 200 receiver has been optimized to run all day on battery power. The battery pack is field-replaceable and rechargeable separately. All Arrow receivers have been designed to meet IP-67 specifications for immersion in water and are completely dust-proof so they will survive in the harshest environments.
The Arrow 200 GNSS receiver with Atlas H-10 service is targeted at high-accuracy applications like GIS, environmental, agriculture, electric/gas/water utilities, surveying, machine control, and federal/state/local government.
About Eos Positioning Systems, Inc.
Eos Positioning Systems, Inc. specializes in the design and manufacture of high-accuracy GPS and GNSS receivers for GIS mapping, surveying and machine control. The Arrow series products are leading edge GPS/GNSS receivers that incorporate bullet-proof Bluetooth connectivity, advanced sub-meter and centimeter real-time accuracy, long battery life and compatibility with every mobile device you use in the field, including iOS, Android, Windows, Windows Mobile and Windows Phone.