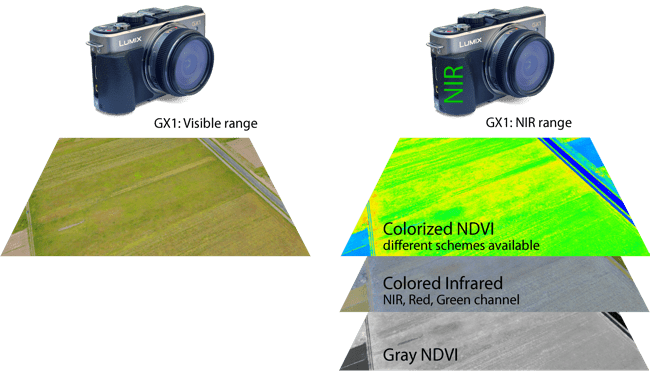 It is very easy to use: Because the SIRIUS and SIRIUS pro UAS provide the whole tool chain from flight planning to the final result, the work flow is straight forward and the system is very easy to use: After flying the UAS and acquiring the images they are processed to an orthophoto. Then MAVinci Desktop performs the index calculation of the NDVI and one can export the final NDVI image.
High resolution and accuracy: The NIR camera version provides the same high accuracy as the visible camera version. The single images can be processed to high accuracy orthofotos and 3D models.
The new NIR camera system is available as an add on for both MAVinci UAS models: MAVinci SIRIUS pro is a fully integrated orthofoto UAS, which delivers orthofotos and three- dimensional elevation models with a high absolute accuracy of 5 cm without using ground control points. The GSD of the single images ranges from 1.5 to 20 cm. Combining MAVinci's precision timing technology with TOPCON's sub centimeter grade L1/L2 GPS/GLONASS RTK receivers this robust system stands up with a clever solution that helps realizing projects in a better and faster way.
MAVinci SIRIUS is a fully integrated orthofoto UAS, that takes aerial images of the area of interest, which are processed to orthofotos or digital elevation models. The GSD of the single images ranges from 1.5 to 20 cm. MAVinci SIRIUS convince in cost efficiency, flexibility and data quality.
Available Versions: Visible and near infrared range
Get the full flexibility: The user can easily switch between the NIR and visible camera system.
Please find demo data showing the performance of the new camera here: ftp://mavinci.de/SIRIUS-PRO/2014_05_21_CIR_MTR/ Please find more Information on our web page: http://www.mavinci.de/camera