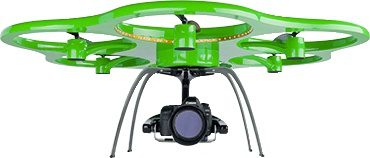 The Aibot X6 hexacopter features advanced, multi-sensor, intelligent guidance systems that make it the safest and easiest to operate commercial UAV currently on the market. Aibotix GmbH, the maker of the vertical take-off and landing Aibot X6 UAV, announced in March 2013 that Leica Geosystems and their partners had been awarded worldwide distribution rights for the Aibot X6.
AIMEX 2013 also heralds the Australian announcement of the Leica SwissDrones dual-rotor UAV. Known as the SwissDrones "Dragon 35", this streamlined synchropter as seen at MINExpo 2012, Las Vegas, Nevada, caused a buzz in the mining market by setting an entirely new standard for UAV technology. The Dragon 35 boasts superior payload capacity and flying time endurance whilst tightly integrating Leica Geosystems' multispectral metric camera and imaging technologies . SwissDrones AG in Switzerland has granted Leica Geosystems the licence for worldwide distribution of the Dragon 35.
UAVs are becoming increasingly important in many of the applications served by Leica Geosystems' solutions. The clear safety and productivity benefits when UAV technology is used for aerial mapping and imagery in mining has become a much sought-after alternative to the costly and time-consuming piloted aeroplane and helicopter solutions currently used. Unrestricted positioning of various measuring technologies on the UAV platforms will spawn a plethora of new applications as the full potential of this transformative UAV technology unfolds.
"For many critical applications, access is risky, impossible or simply too time consuming using conventional methods or platforms," said Rüdiger Wagner, General Manager of Solutions at Leica Geosystems' Geospatial Solutions Division. "We chose the Aibotix Aibot X6 because it is one of the best aerial platforms available for safe, reliable maneuvering of important payloads, not only in tight spaces," he added. "This UAV mirrors the high standards for which our brand is known, making it the right choice for global distribution now. Going forward, I am confident that Aibotix with their strong product roadmap and skilled team are well positioned to keep leading the market with true innovations. That's just what we need as we continue to think forward."
Joerg Lamprecht, Managing Director of Aibotix GmbH, said, "Leica Geosystems is synonymous with spatial information products, and an ideal partner for distribution of our UAVs. This is exciting teamwork from two companies that deliver pioneering solutions to difficult problems, especially when one has been doing so for nearly 200 years. Existing segments will be benefit and new markets will be discovered as great products from Leica Geosystems reach new heights in more places on Aibotix UAVs."
The Aibot X6 and Swissdrones "Dragon" will feature front and centre at the Leica Geosystems Mining booth (Stand 1307, Hall B) at AIMEX.