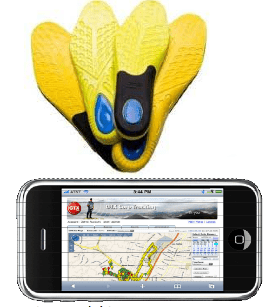 "This relationship and investment with GTX is a great opportunity to couple technology with an insole, enabling us to produce a truly innovative and cost effective solution to meet today's growing personal tracking needs. We are very excited at the opportunity to be at the forefront of wearable GPS tracking technology," said Charlie Sipes Atlantic Footcare President.
With over a year in development, GTX Corp had been researching ways to further miniaturize its GPS module in order to penetrate new markets and expand current ones. "Compared to our existing module, this next gen is approximately 30% smaller, thinner and lighter, 20% less expensive and has 200% more battery life. It is equipped with a motion sensor and advanced A-GPS technology for pin point accuracy and rapid time to first fix (TTFF)" states GTX Corp CEO Patrick Bertagna. "The opportunity to partner with Atlantic Footcare opened up and with this latest next generation device, embedding the module inside an insole was a natural next step."
AF already has ongoing experience in embedding electronics inside insoles through other partnerships and alliances and has already completed the first prototypes of the GPS SmartSoles™ currently undergoing testing. The Company plans to announce by the end of the month some of the partners that will be involved with marketing and distribution.
About GTX Corp (GTXO) – The leader in enterprise 2 way GPS real-time personal location services (PLS) was founded in 2002 and is based in Los Angeles, California with distributors in Canada, Mexico, Australia, Ireland and Nepal and customers in 162 countries. GTX Corp utilizes the latest in miniaturized, low power consumption technology and offers a robust enterprise GPS and cellular location platform to track in real time the whereabouts of people, pets, vehicles and high valued assets. Answering the "where is" question through a licensing business model and providing a complete end to end solution of hardware, middleware, apps, connectivity and professional services. Letting you know where or how someone or something is at the touch of a button, GTX Corp also owns and operates LOCiMOBILE, Inc which develops applications for smart phones and tablets and Code Amber Alertag. The Company has an aggressive intellectual property strategy and owns an extensive portfolio of patents, patents pending, registered trade marks, copy rights and URL's.