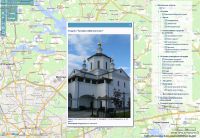 Moscow Region became one of the first regions of Russia, who posted on the Internet a map of historical and cultural sites. Currently, it includes 380 objects of cultural heritage, 5 federal, 12 provincial and 67 municipal museums, as well as 480 accommodation premises (hotels, resorts, recreational facilities, recreation centers for children). By the yearend, the map will contain information about 2000 objects of cultural heritage. The database of accommodation facilities will also be updated.
The data is arranged in the project in form of a tree of layers with point objects, which tables of attributes contain comprehensive information about the characteristics of a natural or cultural monument, links to the media files, the classifier of the object in the system, etc. In addition to the data visualization the GeoMixer platform enables to carry out joint work over a project in terms of editing and adding new data.
– On the basis of this technology data from other regions can be integrated and crowdsourcing and social expertise tools can be applied to verify and update the status of cultural heritage objects. For now the information we receive from various sources and from our partners, is not standardized, and the majority of it does not contain geographical references. We hope to change that with the help of GIS technologies and respective updated satellite and aerial photography data, – says CEO of the "Kosmosnimki.Ru" company George Potapov.
Minister of Culture of Moscow Region Oleg Rozhnov noted that the interactive map of objects of cultural heritage will allow residents of the region to get the full background information on museums, estates, their location, work schedules, and also go to the web site of a historical and cultural site.
– The map will enable each tourist to make an interesting and informative trip through the Moscow Region, and find a hotel or a recreation facility, where he or she can stay while traveling in our region – said Oleg Rozhnov.
"Kosmosnimki Ru" – a subsidiary company of ScanEx Research and Development Center. Specializes in the development and support of geoinformation projects. The main technology innovation is the GeoMixer Web-GIS platform. It can be used to quickly and easily publish own data on the geoportal, to apply layers on the maps' and satellite images' substrata and share them with an unlimited number of users under certain terms and conditions. This technology includes a large set of tools for creating web maps and for project management: access to the basic maps substrata (Kosmosnimki.Ru, OpenStreetMap, 2GIS); search based on the addresses (Geocoding); search for "points of interest" (POI); search for routes; use of multimedia (flash animations, illustrations, videos, etc.).