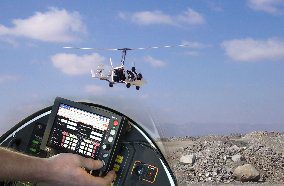 "This is a significant investment not only for us as a professional services company but for our customers across the African region," commented newly appointed Chief Executive Officer, Dean Polley. "Using this system we can efficiently plan survey missions and ensure that they executed according to the plan."
"However, the IGI CCNS 5 is more than just a flight management system it is a complete guidance, positioning and sensor management solution," continued Polley. "By integrating this system with existing cameras and LiDAR scanners, as well as future, planned purchases, we can ensure the successful completion of surveys with a confidence not currently available from other providers."
IGI were the first company to introduce a GPS based flight management system or CCNS and the fifth generation system purchased by GeoM represents the next step for survey flights worldwide. The CCNS 5 is smaller, lighter and richer in functionality than both its predecessor and other systems currently available in the market place. The integrated system can operate all common sensor types including digital and analogue aerial camera systems as well as LiDAR and SAR systems. The CCNS 5 is designed to work with IGI's mission planning software and resulting data is compatible with most geo-referencing post processing packages.
GeoM purchased the IGI CCNS 5 from technology partners 3D Laser Mapping.
GeoM is the leading South African service provider of airborne laser mapping solutions; specialising in vegetation management services, power line and tower infrastructure maintenance and management to the electrical transmission industry. GeoM also offers a range of mapping and surveying services to the mining industry including stock-pile volume surveys, open cast mine mapping and safety monitoring.

GeoM can acquire LiDAR, Orthophotos, Oblique images, UV, IR, HD video imagery and hyperspectral data from a range of platforms including standard survey aircraft, helicopters and gyrocopters as well as terrestrial and mobile solutions. GeoM has completed projects across the African region including road surveys in Botswana, quarry mapping in South Africa and a deep sea port project in Cameroon.