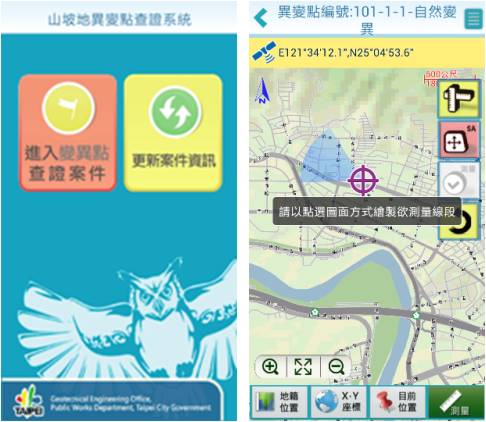 Taipei is the capital in Taiwan and nearly fifty-five percent of the urban land is occupied by hillsides. However, the increasing population and the sprawl of new houses across the hillsides have resulted in some environmental problems and damages due to uncontrolled urban development. The changing or destructive terrain and hillside condition make it difficult for surveyors to collect terrain data and the visible evidence of environmental destruction of land resources.
To reduce hillside denudation and improve the querying and reporting efficiency of field data collection, Geotechnical Engineering Office, Public Works Department, Taipei City Government employed GIS technology to integrate the terrain data and hillside images taken by satellites and then provide the officers with better hillside observation. With the system, the forest patrols will be well informed if there is any hillside destruction and then enabled to identify the reported location of the hillside.
In addition, the system helps the forest patrols access the reported information to explore terrain data using smart phones, tablet, or computers and further update the dynamic information about hillside condition through applications on devices. Therefore, inspectors could fully comprehend and monitor hillside condition in each region in real time.
Developed by Geotechnical Engineering Office, the Taipei Hillside Remote Sensing Management System for Reporting and Querying is consisted of Information Reporting System and Field Investigation Management System. The systems can automatically generate electronic reports and tables to help inspectors manage photos, record the hillside condition, and upload investigation results in texts through handheld system.
In this project, the server-based GIS software enables the office to publish map services and the forest patrols to directly load maps and report real-time status of each region. Besides, Field Investigation Management System, the custom mobile app, is also created for Android devices to collect the hillside information of case number, district number, coordinates of the reported location, hillside variation images, topographic maps, etc.
Serving as a geospatial data gateway, Taipei Hillside Remote Sensing Management System for Reporting and Querying shows the location of destructed hillside through satellite image analysis. Afterwards, the reported location data can be sent to investigators' mobile devices over the Internet for further investigation data and photo updates more effectively.
In the next phase, the system aims to establish a map website using SuperGIS Server, the enterprise server GIS software, to ensure all the reported cases could be well integrated and displayed on maps and the environmental condition in each mountain could be effortlessly obtained for better preservation, saving the loss and reducing disaster damage.

More information about the application story, please visit http://www.supergeotek.com/Library_2_201307.aspx
More product information about SuperGIS Server, please visit http://www.supergeotek.com/LandingPage_SGS3.1a.aspx