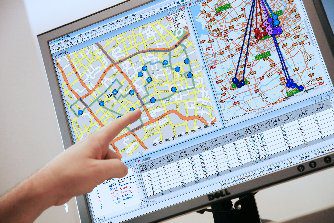 "Paragon software is now ready for routing and scheduling optimisation in China at the same level of detail and complexity available to users elsewhere in the world. We believe we are one of the first companies to have overcome the technical and legal challenges to provide a fully functional, fully featured transport planning solution for customers in China. We have already installed Paragon in Chinese with the fully licensed China map for our first customer in Shanghai," says William Salter, Managing Director, Paragon Software Systems.
Paragon software is Unicode compliant, which makes it possible to translate it into any language and enables its use anywhere in the world. This includes languages that use special characters such as those in Simplified Chinese, the written language for mainland China.
"Our unique Chinese offering confirms our commitment to providing our customers with the logistics software they need wherever they may be worldwide. We already offer a wide range of language options, including American English, French, German, Spanish, Hungarian and Croatian. Users simply select their preferred language from within the Paragon Workbench. This is particularly useful in centrally deployed software environments where it is possible for different users to access a single Paragon software installation concurrently in their own language."
ABOUT PARAGON
Paragon Software Systems is a market leader in transport optimisation with over 1,500 routing and scheduling systems installed in more than 33 countries. Paragon helps companies reduce transport costs by up to 20 per cent through more efficient deployment of vehicles and drivers. Headquartered in Dorking, UK and with US offices in Dallas, Paragon is a respected pioneer in routing and scheduling with over 30 years of know-how.
Paragon is employed by transport operations ranging from just 10 vehicles at a single site to hundreds of vehicles operating from several sites. The system is used for routing and scheduling optimisation; managing transport resources; strategic planning; scheduling home deliveries continuously as orders are being confirmed; and managing the execution of the transport plan in real time using vehicle tracking technology.
Paragon assists many leading companies with their logistics including ASDA, Royal Mail Group, Harrods, Sainsbury's, AB Agri, CEVA Logistics, Wincanton, DHL Exel, Norbert Dentressangle, Linde, Fuller's, John Lewis, Tesco, Keystone Distribution, Raleigh and many others.