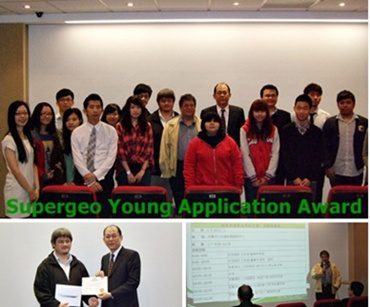 This year's top 3 Young Application Award recipients included Huang Rai De and Chen Yi Chun (Chien Hsin University of Science and Technology), Yan Chi Feng (National Taiwan Normal University), Chang Yu Chun (Providence University), who developed practical approaches to the problems in the applications of tourism development, emergency preparedness and response, land-use planning, etc.
The best project demonstrates how the city halls in Taoyuan, Taiwan benefit from high-quality maps that are used to visualize critical vulnerabilities and damage consequences. Launched by the local government, the project helps the inhabitant increase the awareness of environmental risks, understand the potential disasters in the living environment, and better mitigate a disaster or emergency situation.
Moreover, the winning recipients were also invited to give the presentations at the ceremony, which offered an opportunity to facilitate communication among GIS learners, educators, and general users. Supergeo will continue to hold the application contests for students to come out with new ideas and share their most innovative GIS projects using SuperGIS software.
To learn more about Supergeo, visit http://www.supergeotek.com/