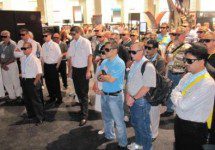 Now in its 9th year, AMC attracts 2,000+ participants from the mining and investment communities in Asia – they will be privileged to be amongst the first in the world to see new features in GeoVisionary:
• Point Clouds: The ability to manage massive data sets in real time is perfectly illustrated by GeoVisionary's power to visualise millions of points of laser scanner data in their real world location. This is achieved whilst also displaying all other datasets relevant to the point cloud data. Additionally, GeoVisionary's tools facilitate measuring and digitising within the point clouds, giving the user the ability to compare differences in models and change over time.
• Volumes: Once the province of only the most advanced geoscience modelling software, Voxel data has never before been available to be visualised in all its glory in parallel with other data sets. Now GeoVisionary can load the full volume, geospatially located alongside all of the GIS data simultaneously. This complex feat is remarkably easy to manage, thanks to GeoVisionary's user friendly controls that allow dynamic, real-time iso-surfacing and multiple transparencies enabling users to see right to the core of their data.
Andy O'Keeffe, GeoVisionary's product manager, commented: "GeoVisionary's developers have been working hard to extend our software's capabilities, as well as consolidating its position as the world's leading geoscience visualisation software. We'll be displaying GeoVisionary in 3D thanks to our ActiveMove, a transportable Virtual Reality system created by Virtalis. The Asia Mining Congress is the region's leading mining investment event connecting the most important global mining stakeholders with Asian opportunities and capital. GeoVisionary has already been used by some of the large mining businesses to enhance the lifecycle management, exploitation and monitoring of their assets to both improve their RoI and manage their risk."