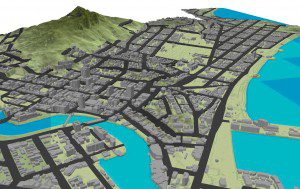 Council's Geospatial Solutions Manager Kenneth Melchert said residents can experience their first taste of this new technology when Council's new planning scheme is released for community consultation and public notification in the second half of this year.
"Historically planning schemes have been presented on hardcopy paper maps or using flat 2D digital images with coloured areas representing the various planning zones," Mr Melchert said. "Later this year, Townsville residents will have access to a 'fly through' 3D video of key components of the new planning scheme that will contain a range of virtual structures to allow viewers to see potentially what a zoned area might look like. For example, if an area is zoned 'mixed residential', we can place a hypothetical three storey building on that part of the 3D map to illustrate the type of buildings that may be expected there. As well as being visually exciting, the 3D models enable us to better inform the public and help them gain a more complete understanding of the new planning scheme."
Council has developed a spatial 3D modelling and visualisation strategy, which Mr Melchert will present to an audience of GIS technology experts during Esri Australia's Directions 2013 seminar in Townsville on 22 February
The strategy includes expanded applications for the 3D Townsville model, such as development assessment and eventually interactive simulations for Council planners and residents alike.
"From a development assessment perspective, 3D modelling will enable our planners to conduct detailed analysis on how proposed developments will impact existing buildings and structures," Mr Melchert said. "By adding the proposed buildings to the model, planners will be able to assess how these developments will affect the city's skyline and other resident's line of sight, as well as the shading impact on other buildings. This will provide an invaluable tool for our planners to explain development guidelines and legislation and remove confusion about why certain decisions are made. Eventually we will extend the application and capability of 3D modelling technology to environmental modelling, disaster management and hazard assessment."
Esri Australia 3D specialist Kellie Persson said GIS technology now enabled town planners to answer a range of critical questions.
"A vast range and depth of data can now be entered into 3D GIS technology, making it possible to create highly realistic virtual worlds," Ms Persson said. "The 3D models generated can display everything from a city's geological terrain, to its road networks, to building heights and the flight paths above it. They contain everything Council planners need to know to begin to model the shadows of multi-storey building proposals or anticipate the effects of varying flood levels on city infrastructure. Better still, the 3D models are 'living' files, and as Council gathers and adds more information about the city, the 3D map becomes more detailed and comprehensive."
Townsville Directions 2013 is part of a national Esri Australia roadshow and will showcase the latest developments in GIS technology, featuring presentations from local, national and international experts and never-before-seen technical demonstrations.