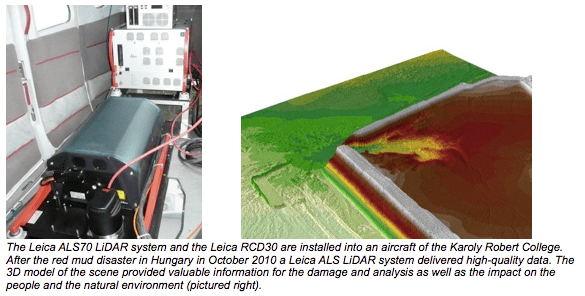 With the help of Hungary's first airborne LiDAR system the College conducts basic and applied remote sensing research, focusing on the applications of state-of-the-art multisensor airborne data acquisition and on the development of techniques to enhance the usefulness of these systems in environmental applications.
"Our ambition is to elevate the impact of Hungary's remote sensing activities on the advancement of science, technology and environmental management", said Csaba Lenart PhD, professor of the Research Institute of Remote Sensing and Rural Development, Karoly Robert University College, Hungary. On October 4th, 2010, Hungary faced the worst environmental disaster in its history, when the embankment of a toxic waste reservoir failed. "We processed the data acquired with ALS LiDAR, thermal and hyperspectral imaging technologies in order to map the scale of damage caused by red mud leakage, and to compensate the property owner for the loss. Following this incident and the results the ALS system delivered, many decision makers in the country realized the benefit and the need for airborne technologies", Csaba Lenart adds.
There are already forestry projects running across the country using the Leica ALS70 HP and the Leica RCD30 medium-format camera to calculate the biomass and analyze the health with full waveform. The Robert Karoly College also uses the system for flood plain mapping and will also contribute to the flood risk mwmks261odeling within the framework of the international European Union's INTERREG program between Hungary/Slovakia. The group's special task is LiDAR fusion with hyperspectral imagery. Other foreseen tasks for this year include archeological site selection, emergent vegetation mapping, environmental change detection, environmental impact assessment and algorithm development for full waveform data.
"The ALS70 LIDAR system family with its modular philosophy gave us the chance to provide our partners in Hungary with exactly that system configuration which they need for their projects", said Dr. Hartmut Rosengarten, EMEA Market Segment Director Airborne Sensors of the Hexagon Geospatial Solutions Division in Heerbrugg. "We had a very close and prosperous cooperation with the technical and commercial team at this University which made this project come operational with a lot of enthusiasm and competence."
About the Karoly Robert College
The Karoly Robert University College (KRF) specialized in the collection and analysis of remote sensing data captured by hyperspectral, Lidar and high performance optical airborne sensors. Since last year the College is a United Nations SPIDER office with extended capabilities in rapid response applications. Its state of the art remote sensing technology and the collection of topographic and thematic data can be used for a wide range of applications including environmental, agricultural and industrial applications, oil and gas related research and monitoring. The College and partners from Europe and US have advanced airborne, spaceborne and ICT capabilities to supply huge amounts of geodata to the GIS community due to man power, technical equipment and modern production center with HPC background. The College performs a wide portfolio of service missions across Europe, Africa, the Middle East, Asia and the Americas.
About Leica Geosystems' Airborne Solutions
With over 80 years of experience, Leica Geosystems is a global leader in the design, delivery and support of airborne digital and LiDAR sensors for the geospatial marketplace. Along with the well-known Leica RC30, Leica Geosystems' airborne sensor portfolio today includes a wide range of innovative technologies and products such as the Leica RCD30 series of medium format digital frame cameras, the Leica ADS pushbroom sensors, the Leica ALS LiDAR series, and the Leica IPAS GNSS/IMU solutions.

Following the acquisition of Intergraph by Hexagon in 2010, Hexagon Geosystems' newly formed Geospatial Solutions Division has brought together Leica Geosystems Airborne Sensors and Z/I Imaging. Committed to continued innovation on all major product lines, the combined airborne sensor portfolio includes the widest range of medium and large format imaging as well as LiDAR technologies and offers a choice of sensor for every application. A full suite of software from flight planning to post-processing provides end-to-end workflow for high accuracy orthophoto generation, feature extraction and map production. In addition, Hexagon Geosystems operates a global network of customer service and support centers to ensure highest productivity around the clock.
Leica Geosystems – when it has to be right
With close to 200 years of experience pioneering solutions to measure the world, Leica Geosystems products and services are trusted by professionals worldwide to help them capture, analyze, and present spatial information. Leica Geosystems is best known for its broad array of products that capture accurately, model quickly, analyze easily, and visualize and present spatial information.
Those who use Leica Geosystems products every day trust them for their dependability, the value they deliver, and the superior customer support. Based in Heerbrugg, Switzerland, Leica Geosystems is a global company with tens of thousands of customers supported by more than 3,500 employees in 28 countries and hundreds of partners located in more than 120 countries around the world. Leica Geosystems is part of Hexagon, Sweden.