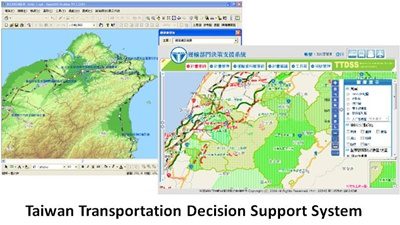 In the past, the construction plans in Taiwan were drawn up and submitted to Executive Yuan by individual executives based on their business accountabilities, and then deliberated by Executive Yuan. However, due to the fiscal restriction, Executive Yuan considers the construction plans seriously, especially when the need of analyzing competition among each construction plan increases day by day.
In order to facilitate the development of transportation system and make efficient resource allocation, Institute of Transportation, Ministry of Transportation and Communications (MOTC) utilized GIS technologies to assist Taiwan transportation executive in completing public construction, formulating feasible plans, and analyzing critical issues in transport services.
Developed by Institute of Transportation, MOTC, Taiwan Transportation Decision Support System (TTDSS) fully integrates multiple databases and map data to perform map display and analysis functions, helping the commissioners to make better policies and decisions when developing Taiwan transportation system.
With the aim of integrating databases and displaying relevant maps of transportation, TTDSS employed SuperWebGIS 3 to display, operate and analyze maps, allowing the commissioners to view and manipulate map data over the Internet. Moreover, SuperGIS Desktop 3.1 also allows the administrators of TTDSS to modify map content efficiently and facilitate map output with the custom functions.
Due to the development of TTDSS, commissioners of Taiwan transportation executive now can display diverse theme maps and data on-line and implement various analysis functions to reach fateful government decisions. Also, the efficiency of plan scrutinizing is greatly improved, allowing the commissioners to make decision more objectively and effectively.