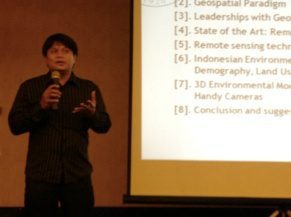 The half-day seminar showcased innovative technology and application using NEXTMap Indonesia – aggregating high resolution 3D terrain data for Indonesia, in addressing the challenges of National Development such as Infrastructure development, Natural Resource Management and Disaster Management. The keynote addresses by Prof Ketute from ITB Bandung was highly informative and educational.
VVIP -Prof Ketute giving his opening address on the importance of 3D Geospatial Data
DES's Indonesia DATAppliance™ and Intermap's 3DBI™ had gathered huge amount of interest from the participants. Both technologies demonstrated how large amount of 2D and 3D data can be acquired and utilized for the various Development Projects in cost effective, easy and simplified way.
About Intermap Technologies
Intermap is an industry leader in location-based services and solutions. Through its powerful suite of 3DBI applications and proprietary development of contiguous databases that fuse volumes of GIS data into a single source, Intermap is able to provide location-based solutions for customers in diverse markets around the world that solve today's complex geospatial challenges.
About DES Consulting Pte Ltd
DES is trusted partner to many of Asia's leading organisations. Their core competency is to design geospatial solutions that deliver measurable results. They offer professional and independent advice on the supply, integration and enhancement of commercially available satellite imagery and spatial datasets to create accurate, interactive geospatial applications for a wide range of industries all over the Asia region.