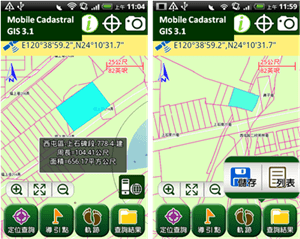 Designed to perform cadastral position, field survey and measurement, Mobile Cadastral GIS 3.1 integrates with GIS, GPS, and e-compass technologies to help field surveyors quickly locate their current position and cadastral information to accomplish filed tasks efficiently.
Supporting Android 2.3+ devices, the newest Mobile Cadastral GIS 3.1 allows for easy cadastral data query with the enhanced query function, helping users to obtain and recognize perimeter and area information of the district simultaneously. Additionally, the query results of cadastral data can be saved and exported as text file (TXT) for further field application use.
Moreover, SuperSurv 3 is also available for Android users to complete data collection and edit features and attribute data during surveys. SuperSurv 3.1 will be launched later this month.
More product information about SuperGIS Mobile GIS software, please visit http://www.supergeotek.com/products_MobileGIS.aspx