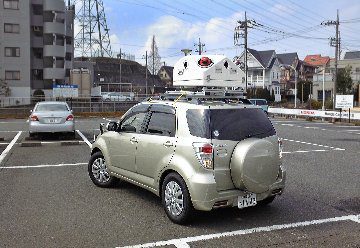 The latest StreetMapper system to hit the streets of Japan will be used by Mirukuru for demonstrations purposes and for training and support of both existing and potential StreetMapper users. "Having our own system means we can demonstrate the true potential of the system capturing highly accurate measurements for real world projects in a wide range of environments," commented Shinji Inaba of technical consultancy company, Mirukuru. "We are also able to support our existing customers with hands on training and frontline support and back up."
Mirukuru also recently held a StreetMapper User Group attended by a number of organisations who are already undertaking mobile laser surveys using the StreetMapper system. The one day seminar was also attended by survey companies and public sector organisations who are considering adopting the technology.
Five other StreetMapper systems are already in use across Japan. The Geospatial Information Authority of Japan, the national organisation for surveying and mapping, recently took delivery of a StreetMapper Portable system, while construction consultants ASCO are already operating two similar solutions. Asia Air Survey were the first company in Japan to adopt the StreetMapper technology and made headlines with their use of the highly accurate mobile mapping system to assess the damage caused by the earthquake in March 2011.
StreetMapper has been specifically designed for the rapid 3D mapping of highways, runways, railways, infrastructure and buildings. Using vehicle-mounted lasers offering a 360-degree field of view, StreetMapper enables high precision mapping to a range of 300 metres, a capacity of 550,000 measurements per second per sensor and recorded accuracies in independent real world projects of better than 10 millimetres.
Utilising StreetMapper 360 technology StreetMapper Portable combines flexibility and ease of use with proven performance and accuracy. StreetMapper Portable is small enough to check in as standard luggage at the airport and designed to be installed in a matter of minutes on virtually any vehicle making it ideal for rapid deployment in inhospitable or inaccessible environments.