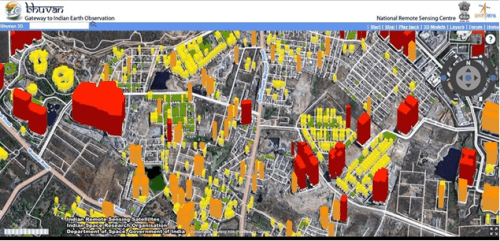 ISRO's Bhuvan geospatial data portal provides visualisation services and Earth observation data and remote sensing applications. Bhuvan made a modest beginning in 2009 with simple display of satellite data and basic GIS functionality with many thematic maps on display, and has now grown serve more than 6,000 map services for diverse application areas.
With administrative and hydrologic base for the country, Bhuvan provides a strong foundation with 1-meter resolution satellite data for more than 350 cities. The transport network scales from national highways to city roads and is populated with more than 8.5 million Points of Interest locations.
While Bhuvan hosts content for public consumption, there are host of applications developed and deployed on a daily basis to enrich the usage of this platform. Bhuvan has been able to accomplish a huge user-base with millions of geospatial hits on a daily basis. It has become the GIS platform for the country.
Government agencies use this platform to share and host their data. Crowdsourcing services are very popular for field data collection for various government programmes.
Some of the States using Bhuvan platform for specific applications are Punjab, Karnataka, Himachal Pradesh, Andhra Pradesh and North Eastern states. These are specific joint initiatives that address specific thematic applications in Forestry, Tourism, Municipal GIS, Geo-tagging and so on.  These applications have paved the way for collaborative portal development and use Bhuvan as a common platform for the State's purpose while at the same time becoming national assets. To facilitate similar such activities across the country, Bhuvan presently hosts 30 state geo-portals, which is bound to further grow in terms of capabilities with collaborative efforts in the near future. There are many more examples of public sector, private users and NGOs who host their data and utilise the services of Bhuvan for a variety of purposes. One good example is ENVIS program of Ministry of Environment, Forests & Climate Change which is actively using Bhuvan services. Similarly, "Bhuvan Panchayats" a Web Portal is facilitating decentralised planning at grassroot level. Designed to provide the information in spatial and non-spatial format for assisting the development activities of the local bodies in rural and urban areas, Bhuvan Panchayats provides information on various themes with high-resolution satellite images in the background. The portal also, provides the detailed information regarding household amenities data and Census Population data at district and village level respectively.
As per the recent direction from the Government on the most effective use of space technology by user ministries, more than 20 ministry portals are unveiled and have been discussed during the National meet on the use of space technologies, chaired by Hon'ble Prime minister of India. Many of the Ministries/Departments have linked their web portals to Bhuvan for online services. Bhuvan has become a popular platform that hosts one of the largest repositories of GIS map and services in the country.
Space technology is being used for the benefit of society especially during natural disasters. Bhuvan supports management of disasters like Cyclone, Floods, Landslides, Earthquakes, Forest Fire and Drought, which is useful for various phases of disaster management including preparedness and response. Uttarakhand disaster in 2013, J&K floods and Hudhud Cyclone in 2014 and Nepal Earthquake in 2015 are some of the examples where Bhuvan provided unique services in terms of online disaster information update, forecasts and post-disaster scenario. Yet another important forewarning solution provided by Bhuvan is in the landslide forewarning system.  The rain induced landslide warning for major pilgrimage routes in Uttarakhand hills are being provided on an experimental basis for the past 2 seasons. This gives regular updates on the potential landslides alert based on rainfall and other parameters.
Bhuvan is also acting as a clearinghouse for satellite data and value added products. They are effectively used for scientific studies and help students, researchers and organisations to take up the scientific projects for applied research. 3.6 lakh products have been downloaded by users in the last three years and the NRSC Open EO Data Archive, as clearing house, has become widely popular. This includes scientific products generated by studying land, ocean and atmosphere under National Information System for Climate and Environmental Studies  (NICES).
Apart from these, many more services released include Geo-tagging and controlled crowd sourcing application for Andhra Pradesh (AP) Housing Corporation Ltd., which has enabled geo-tagging of 3.8 million houses in AP with field photos and important attributes of housing in AP, Islands information system for developmental decision making for Border Management, MHA, Live link of the GIS databases of North East Region (NER) that showcases tools for better planning and development of NE States, A new tool on Bhuvan, enabling Data Discovery and Metadata display for the ease of navigation by the user community, Cultural heritage sites of the country and its management on geo-spatial platform – National database for Ministry of Culture & Archaeological Survey of India, among others. Application on 3D city models / views with extrusions of the buildings and virtual city models would be a useful tool for Smart City program of the Government. Other applications include Horticulture area mapping and assessment for Mango, Banana and Citrus fruits – A National Mission of DAC, MOA, Bhujal database and visualisation – Country wide ground water maps, with state-wise access to the online services for drinking water and recharge structures, Geo-spatial tools for the Schools – GIS for class 9 and class 10, including neighbourhood mapping tools for school children as part of School Bhuvan, GAIL pipeline surveillance and monitoring system, pilot scale implementation for 640 km stretch in Gujarat. E-governance model for image and geo-spatial based techniques, Mobile smart phone applications for varieties of crowd sourcing applications – particular focus being on "Clean Ganga" Mission of MOWR. The tool "Bhuvan Ganga" is now available on public domain for people to participate in providing vital information for Clean Ganga project.
Bhuvan is now enriched with more than 20 ministry portals and 30 state portals and is also providing active support for flagship programmes of the government including Integrated Watershed Development Program (Srishti-Drishti), National Mission for Clean Ganga, AMRUT, etc. The projects initiated with various ministries have been translated in web applications and are now available on Bhuvan.