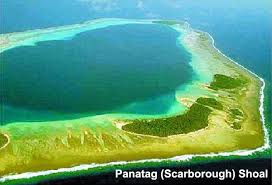 A new version of the Philippine national map is being prepared by the Komisyon ng Wikang Filipino (KWF) that will include and identify contested islands with names that pre-date the Spanish era. The map is being prepared and will be posted to the KWF website within a year.
The native names are meant to recall historic holdings and stress Philippine sovereignty over thee territories. The map will include Scarborough (Panatang) Shoal as well as other islands in the West Philippine Sea.
The move is meant to combat Chinese naming of the islands and to preserve Philippine claims. The map will be coordinated with the National Mapping and Resource Information Authority (NAMRIA).
Source: ABS-CBN