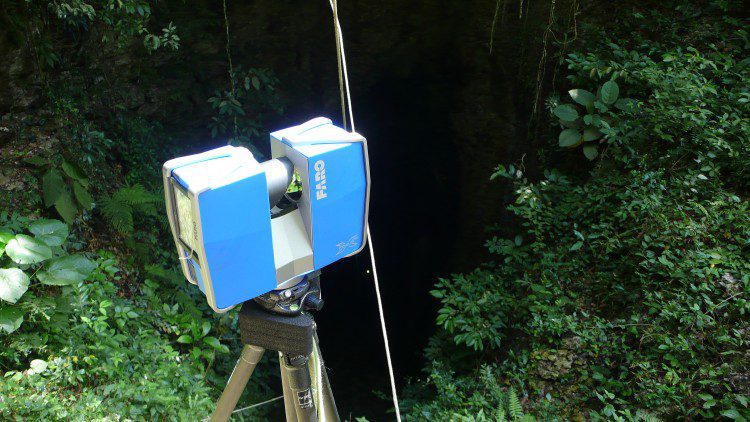 Located in Sabah, East Malaysia, Gomantong Caves is a 65-million-year-old limestone cave system that is famous for its edible-nest swiftlet and bat populations, as well as an ecosystem of critters and creatures that thrive in dark and moist conditions. Despite its harsh environment, Gomantong still sees its fair share of visitors, whether they be bird's nests collectors or eco-tourists.
In July 2014, a group of seven international academics embarked on an expedition to the far North East of Borneo to study the renowned Gomantong Caves. Funded by the National Geographic Society, one of the world's largest non-profit scientific and educational institutions, the project's goal was to obtain highprecision, three-dimensional (3D) laser scans of the complex cave systems, and to integrate the scan data with the digital elevation model of Gomantong Hill's surface.
Involving specialists of various fields from six countries, the study is driven by an interest to understand the interaction between animals and landform changes, and is a continuation of earlier expeditions to Gomantong Caves and Niah Caves in Sarawak. FARO – the world's most trusted source for 3D measurement technology – partnered the team.
Obtaining a 3D Model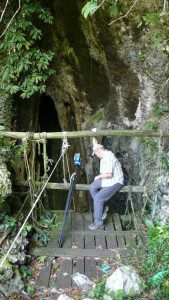 Under the guidance of Professor Donald MacFrlane from the Keck Science Department, The Claremont Colleges (California, USA), the interdisciplinary research team included Mr. Warren Roberts from the Honhold Library, The Claremont Colleges, Professor Joyce Lundberg from the Department of Geography and Environmental Studies, Carleton University, Ottawa (Canada), Professor Manfred F. Buchroithner and Mr. Benjamin Schröter from the Institute for Cartography, Technische Universität Dresden (Germany), Mr. Guy van Rentergem from Deinze (Belgium) and Keith Christensen from Falls Church (Virginia, USA).
Prof. Buchroithner commented, "This expedition is an essential data collection trip for us to build a very detailed 3D model that will enable further scientific research. The 3D 'cave map' will then form the basis of various geologic and biologic tasks that each team member will undertake."
For the cave biologist, it would be important to identify the exact distribution of bats and swiftlets; for the geologist, however, the vertical profiles that indicate cave genesis or the horizontal profiles that give elevation contour lines would be vital information. In that regard, it is absolutely critical for the team to ensure flawless execution in the early stages of data collection.
Prior Knowledge & Rich Experience
As several members possessed rich experience in terrestrial laser scanning, particularly in caves, the team had a good idea of what was required, and of what to expect. In particular, given that scanning would be performed in a remote location that was dark, dirty, humid, and distant, the device had to be able to overcome all those difficulties.
Having had prior experience with the FARO Laser Scanner Focus3D, Prof. Buchroithner was fully aware of its capabilities. He shared, "Clearly, we needed a device that was rugged, lightweight, and capable of capturing accurate data even with low ambient lighting. My prior encounter with the Focus3D gave me full confidence that the new Focus3D X 330 would deliver the results we needed. In fact, it surpassed our expectations in several ways!"
Over 17 days of fieldwork, the team worked tirelessly for at least eight hours a day, taking a total of 270 detailed, over-lapping scans in the cave system. Back in the office, these scans were then processed using the FARO SCENE software, which eventually resulted in the detailed 3D cave model that the team desired.
The research team unanimously felt that the Focus3D X 330 provided highly accurate scans in a consistent manner. Measurement times were also significantly reduced as the device could collect large amounts of data in just a few minutes. In addition, the power efficiency and portability of the Focus3D X 330 – both in weight and form factor – made it even more attractive for the cave-scanning project. Not only was the device easy to bring around, it did not require additional computers or heavy battery units for a day out in the field.
On several occasions, the team members had to perform scans in extreme 'exposed locations', where there was no way to deploy the device on a tripod. The Focus3D X 330 was put to the test, as it collected data while being held in oblique or even horizontal positions. In some instances, researchers even risked their lives to perform scans by hanging from vertical rock-faces of cave shafts, just to collect sufficient point cloud data for a complete model. These 'stunts' were made possible only because the Focus3D X 330could scan even with significant device inclination, unlike other older devices that required a level base.
Perhaps most noteworthy of all, the latest version of the FARO SCENE enabled the team to process the captured data more efficiently. The software's ability to support targetless scan registration meant that artificial markers were no longer required for scans to be positioned in post-processing. In actual fact, the FARO SCENE stitched data from separate scans accurately and quickly, even under challenging conditions.
"The automated merging function in the FARO SCENE facilitates the processing of scans tremendously," said Prof. Buchroithner. "The fact that the software can deal with an irregular environment like the Gomantong Caves is a testament of its strength."
Indeed, the FARO SCENE software was celebrated for its user-friendliness by this research team. It allowed them to generate reports easily and to utilize CAD data in later stages. Photo-realistic images could also be added as an overlay to provide simulation, providing flexibility in data manipulation.
At the end of the trip, the interdisciplinary research team managed to complete the geometric model they aimed for. Furthermore, the resulting 3D 'cave map' is now the most accurate worldwide, and the one with the highest data volume. Prof. Buchroithner concluded, "We appreciate the technical support that we have received from FARO in the past few years. Without it, these demanding projects would not have been possible. I hope to 'conquer' more caves in other parts of the world with FARO in future."