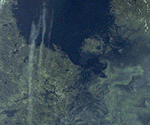 The European Space Agency's (ESA's) CoastColour project makes use of the Medium Resolution Imaging Spectrometer (MERIS) sensor on its Envisat satellite with spectral bands specially designed to characterize the complex mixing of pollutants, suspended sediments and phytoplankton typically found in coastal zones. The imagery products are ideal for water quality monitoring for such things as dredging projects in harbor areas – estimating and quantifying long-term changes in water quality. Coastal resource managers also have to monitor the impacts of the aquaculture industry, where there's a great need to prediction in order to minimise risks to public safety and financial losses.
Earth observation products such as MERIS are also ideal for monitoring fragile reef ecosystems, such as Australia's Great Barrier Reef. Arnold Dekker from Australia's Commonwealth Scientific and Industrial Research Organisation is working with CoastColour to develop techniques to monitor the health of the Great Barrier Reef.
During the wet season large plumes of sediment-laden river water flow into the reef lagoon. Sediments can smother corals and deprive them of the sunlight that they need to survive, while river-borne nutrients may influence the frequency of naturally occurring algal blooms.
MERIS data are also being used to monitor harmful algal booms along the west coast of South Africa in the Southern Benguela upwelling system. Red tides and algal blooms with extremely high phytoplankton concentrations frequently occur in the region's bays, threatening fisheries and tourism.
Earth observation sensors and monitoring systems will continue to evolve to keep an eye on the complexities of coastal zones, particularly given their fragility due to global change.
References
The Integrated Global Observing Strategy Coastal Zone Theme Report, by the GEO Coastal Zone Community of Practice.