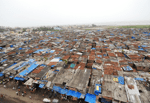 UN-HABITAT and Shack/Slum Dwellers International have undertaken a pilot project in Uganda to record land occupancy and ownership in GIS that is based on the actual pattern in an urban slum, as opposed to the parcel boundary. The effort tackles the reality that families live on very small footprints and that a thousand families can occupy just a few traditional parcels. Capturing the actual settlement pattern and ownership can have an impact on poverty by assigning value to these settlements for individuals.
The UN-HABITAT's Global Land Tools Network (GLTN) is working to eliminate poverty through land reform, applying the Social Tenure Domain Model (STDM), which was launched at the 5th FIG Regional Conference in Accra, Ghana in 2006. STDM is both a framework, software, and spatial data tool for land registry, drawing on satellite imagery. GIS and Microsoft Excel are used to capture enumeration and mapping information at the household level.
This pilot project will be the first time that the STDM platform will be put to use, tying into an activity between the Government of Uganda, the World Bank's Cities Alliance and SDI's urban transformation program that targets slums in five secondary cities: Jinja, Arua, Kabale, Mbale and Mbarara. The STDM is being tested on a range of land related issues, such as informal settlements, land resources management, post conflicts, customary tenure, land adjudication, etc. The plan is to record 200,000 slum families in Uganda and enter them into the government registry.
Recognizing that land occupancy and tenure is different in the developing world means that the benefits of occupancy and equity can reach down to the poorest world citizens. These tools are tailored and tested for land administration professionals dealing with a very difficult task, but the outcome holds great promise.
Resources
Annual World Bank Conference on Land and Poverty, April 19-20, 2011, Washington, D.C.
India Launches Countrywide Slum Mapping Program, World Focus, Feb. 25, 2010