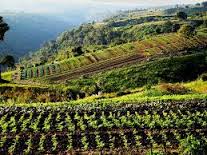 The country has identified the need for a unified land management policy dating back to at least 1932. Since then there have been 55 governemtns and each have had a different plan and approach for land management.
The latest plan calls for a reliable land database with standard mapping and appraisal. Today, different state organziations handle land disputes using different maps that complicate the issue and make it difficult to resolve disputes.
Of particular concern is the encroachment of farmers on protected forest reserves and the diffculty policing farmers who cultivate this protected land.
Source: The Bangkok Post