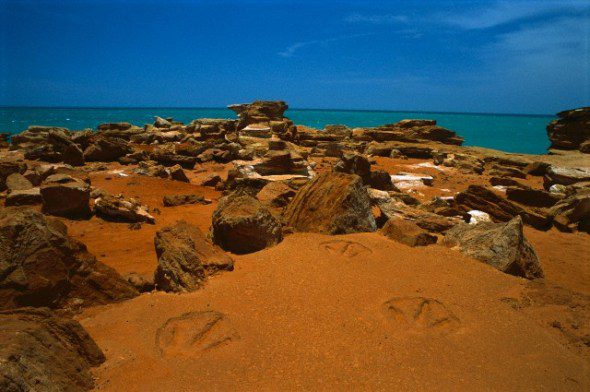 Since GPS data are imprecise, other more specialised devices and techniques are also required. The highest resolution data are gathered by a modified photomapping technology called Sirovision and extensions to some commercial packages. These data can be used to generate high-quality 3D outputs of the subject providing sub-millimetre scale models of footprints.
On a larger scale, Assoc. Prof. Hacker scans the tracks using a specially equipped low-flying aircraft, soaring just 10 m over the rock platforms. The aircraft captures mapping data (high-resolution photos, video, and lidar imagery) as it flies overhead. The data captured by this aircraft can be georeferenced with those from the Sirovision device, enabling data of different scales and resolutions to be integrated.
And on the ground, the Zebedee handheld lidar maps the environment as you walk. You simply meander through a site holding Zebedee as it beams out 2D 'sheets' of laser up to 15 metres into the environment. As it does so, it eagerly rocks back and forth on a spring, making those 2D sheets of information overlap again and again to form a dense and accurate 3D map of the environment. Zebedee initially arose from research into 3D mapping for autonomous robots. The team has also used a drone to map the prints from above, a perspective on the animals' movements impossible from human height.
The tides along the coastline are extreme, at some points drawing back 10 metres down the rock platform before creeping back again. The team must do their work in just a few hours before the tides rise up.
As well as recreating the tracks with high fidelity, Zebedee and the other tools and techniques are integral for preserving these wonders. The tracks are ephemeral and are constantly being eroded by the relentless sea. "A number of tracks that we have documented last year have disappeared as a result of sand movements during the 2014-15 storm," said Steve.
The Walking with Dinosaurs project is science at its finest: palaeontological rigour, traditional insight, and sophisticated aircraft and imaging equipment. By using these cutting-edge technologies, scientists are simultaneously preserving and recreating an ancient world that would be otherwise unimaginable.
Visit this page for more details and images.