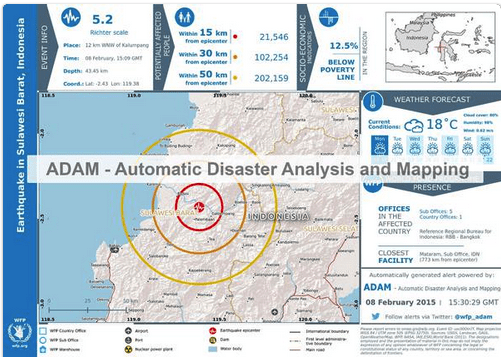 "We have developed this Geographic Information System especially to help our colleagues in the Country Offices, who need to know about natural disasters in their countries in the shortest time possible," says Project Coordinator Andrea Amparore of the Emergency Preparedness and Response Branch. "Instead of hours, we're talking about minutes in terms of being able to gather information, issue details and respond to an emergency."
The ADAM dashboard is automatically produced when a disaster registers over a certain scale — for earthquakes, this means more than 5 magnitude. It then pulls information from a variety of sources and databases for quicker coordination across the humanitarian aid community.
To date, the system covers earthquakes, but there are plans to expand the system to include tropical storm and other natural disasters.
The automatically issued data is immediately available to WFP staff and other humanitarian organizations via customized email subscriptions and a public Twitter feed, @WFP_ADAM
Source: The World Food Programme