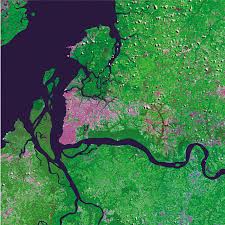 The CBERS Program was born from a partnership signed between Brazil and China on July 6, 1988, and renewed in 2004, in the space technical scientific segment. The program involves the Chinese Academy of Space Technology (CAST), and the National Institute for Space Research (INPE), to develop a program to build and operate two advanced remote sensing satellites.
With the financial and technological resources from China and Brazil, an investment exceeding $300 million, a system of shared responsibilities was created (70 percent Chinese and 30 percent Brazilian) with the intent to implement a complete system of remote sensing internationally.
With the program, Brazil has obtained a powerful tool to monitor its huge territory by its own remote sensing satellites, looking forward to consolidate an important autonomy in this segment.
The CBERS's family of remote sensing satellites brought to Brazil significant scientific advances. This significance is attested by the more than 35,000 users from more than 2,500 organizations registered as active CBERS users, and also by the 800,000 CBERS images, distributed at the approximate rate of 250 every day.
Images generated by CBERS satellites are used in important areas, as deforestation control and environmental monitoring in the Amazon Region, water resources monitoring, urban growth, soil occupation, education and several other applications.
It is also fundamental for large national and strategic projects, for example Brazilian Amazon Forest Satellite Monitoring Project (PRODES), which evaluates and monitors the deforestation of the sugar-cane areas.
The new numbers bring Brazil closer to meeting its voluntary climate change mitigation targets established under the National Policy on Climate Change, aimed at reducing projected greenhouse gas emissions by between 36.1 and 39.6 percent by 2020.