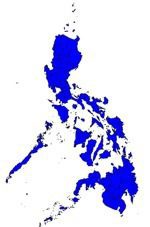 The Philippines is undertaking a unified mapping project to provide up-to-date geospatial information for the country. Instead of the typical approach where different federal agencies have done their own mapping, this effort will pool funds for the acquisition of aerial photography and satellite imagery to update the country's 1:50,000 topographic map series for the entire country, and to implement a more detailed 1:10,000 map series for 50 percent of the country's land mass.
"Around 80 percent of planning, decision-making, and operations in the different government agencies are being influenced by locations," according to DENR Secretary Ramon J. P. Paje. "The government uses the geospatial data for legislation, policy development for the allocation and management of resources, conservation of natural resources, protection of the environment, land use management, agricultural production, urban planning, zoning and development, prevention of natural disasters, communications, transport, defense and public safety, among others."
The work will be coordinated by the National Mapping and Resource Information Authority (NAMRIA) that is part of the Department of Environment and Natural Resources (DENR). The purchase of imagery for the mapping will be made by the Department of Budget and Management.
In other recent news from the agency, the Mines and Geosciences Bureau (MGB) will undertake a densification of geohazard and climate change maps. The production of 1:10,000 scale maps of critical areas of ground stability and the types of landslides that may occcur will provide much more detail than the standard 1:50,000-scale maps. The MGB will also conduct coastal geohazard assessment and the mapping of 97 priority coastal municipalities and cities at a scale 1:10,000 in Iloilo, Aklan, La Union, Northern Samar, Cebu and Negros Oriental.
All of the new maps produced by DENR will comply with the Philippine Reference System of 1992 (PRS92), which is based on the World Geodetic System of 1984 (WGS84), making them compatible with the Global Positioning System. The mandate to comply with this global standard was passed in 2004, with this year being the first that all offices of the DENR need to comply. Prior to PRS92, the country uses the old national geodetic network called the Philippine Geodetic Network, which was established by the United States Coast Guard and Geodetic Survey in 1901 to 1946.
A key component of PRS 92 adoption is the nationwide establishment of permanent reference control points – referred to as "mojons." The government is promoting an Adopt-A-Mojon program to enlist local government, surveyors and the general public in the establishment and perservation of PRS92 geodetic control points.
The combined mapping and geodetic control efforts will result in much improved accuracy and a single unified mapping system that eliminates problems of overlaps and gaps in geospatial data. The updated and centralized Philippine map promises to improve government efficiency, reduce proprety disputes, improve real property valuation and tax collection, and guide land use planning.