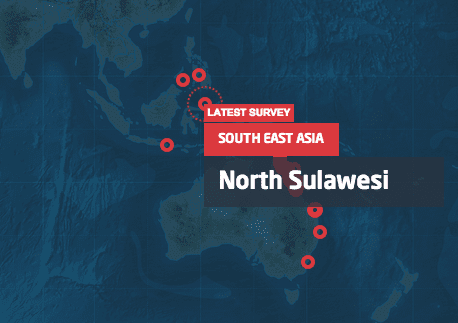 The scientists from the University of Queensland and local partners** are currently spending almost three weeks surveying in Manado, located in the geographic centre of the Coral Triangle, using the Catlin Seaview Survey's SVII camera to record data on an unprecedented scale.
FORTY PERCENT LOST IN THIRTY YEARS
Global ocean changes are increasingly jeopardising corals. Nearly 40% have been lost in the last 30 years. Research suggests an almost complete loss of coral worldwide by the middle of the century, with huge consequences for the health of the oceans and for people dependent on them for their food and livelihood.
The location of Manado in the Coral Triangle, close to the equator, is thought to have the ideal conditions for a slow emergence of coral reefs over millions of years to become a 'treasure trove' of coral abundance and biodiversity.
"Conducting a major survey of the Coral Triangle is important in our mapping of the world's reefs. Globally, coral reefs are worth billions of dollars in fishing, livelihoods, tourism and as storm barriers along coastlines. Studying coral reefs provides a better understanding of short-term risks on a local scale but, more importantly, gives us better information about the long-term risks of climate change on a global scale. As insurers, we need to be ahead of the game," said Stephen Catlin, Chief Executive of international insurer Catlin Group Limited, which sponsors the Catlin Seaview Survey.
The scientific survey will establish an extensive picture of the coral reefs at Manado. The information obtained by the Catlin Seaview Survey will feed into a broader understanding of the health of other coral reefs around the world. This data will be available to everyone online at the Catlin Global Reef Record.