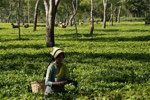 The peak years for tea plantations is between twenty and four years, and most of India's tea plantation are more than sixty years old. The age of plants, depletion of soil and entrenched pests all contribute. With remote sensing, plantation owners are seeking to better monitor their crop, understanding the chmistry and aiming to nurture the plants back to peak productivity.
Using multispectral imagery and the Normalized Difference Vegetation Index (NDVI) that is a visual indication of plant health, plantations are being profiled. NDVI reveals different chemical components in the tea leaves. Researchers are using imagery from the Advanced Spaceborne Thermal Emission and Reflection Radiometer (ASTER) aboard NASA's Terra satellite. The regular data collection from the satellite source allows the researchers to capture leaf conditions throughout the seasons.
By comparing the chemistry of the processed leaves with the NDVI analysis of the plantation fields, researchers found that they could use remote sensing to detect the changes in caffeine, catechins, and various theaflavins that influenced a tea's appearance and flavor. Remote sensing could reduce the amount of hand sampling in the field by monitoring the desired leaf qualities across large sections of tea destined to be harvested.
Applying remote sensing allows plantation managers to track tea quality and plant growth, and is one more tool they can use to reduce costs and remain competitive.