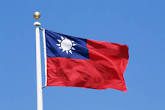 High-resolution satellite imagery is the primary source for the mapping effort, with on-site measurements and other fieldwork also underway.
Disputed islands and territory in the area is being claimed by China, Vietnam, the Philippines, Malaysia and Bruei. In addition to control of shipping traffic, the area is also rich in oil and gas deposits.
Mapping and negotiations are seen as a peaceful means to assert and document claims in a growing territorial dispute that has already led to some conflict.
Sources: Want China Times, Christian Science Monitor