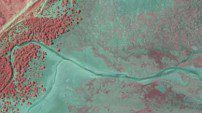 NZAM has a number of large projects under way, particularly in the Middle East where they have been completing a large border surveying project for the countries of Kuwait and Saudi Arabia. This project, and the slow payment on it, have contributed largely to the company's current financial predicament. The company wouldn't comment on the party in arrears as there is ongoing negotiation and a hope that the money can be recovered.
A majority of the company's employees were let go recently, with 17 of the 22 staff members shown the door. The remaining seven staff will complete current work and assist in the sale of assets. The company has aircraft, several properties, and assorted aerial mapping equipment that will be offered for sale on a break up basis.
NZAM owns an Optech Orion H300 and ALTM3100c-EA LiDAR systems each with integrated digital cameras, Microsoft UCX and UCXp large format digital cameras as well as a fleet of five aircraft dedicated to aerial survey with full GPS/IMU navigation systems. The company also has a photo archive dating back to 1936 with a wealth of information providing a significant resource to those needing to assess land cover or topographic change over time.
The storied history of the company include a colorful founder, Henry Drury Piet van Asch (1911-1996), who is credited with pioneering aerial mapping in New Zealand. Thsi unfortunate end means that skilled individuals and top-of-the-line equipment are available for those with an entrepreneurial spirit to meet today's growing market demands.
Sources: The Dominion Post, NZAM