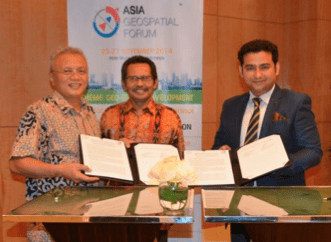 The Asia Geospatial Forum 2014 Soft Launch and MoU Signing ceremony was attended by various stakeholders and industry people especially from Jakarta. Geospatial Information Agency (BIG) and Ministry of Agriculture, Republic of Indonesia has also agreed to be the Government Partner for the Asia Geospatial Forum 2014. In the opening speech, Ir Budhy Andono noted that Asia Geospatial Forum 2014 is important for both ISI and government of Indonesia in future nation development especially for the academician, business, government and the community. This event also will be an important indicative platform for next five (5) years plan which is also known as Masterplan for Acceleration and Expansion of Indonesia's Economic Development, MP3EI for the duration of 2015- 2020.
Mr Asep Karsidi stressed that Asia Geospatial Forum 2014 is an important moment for Indonesia in acquiring the latest skill, technology and tools for the national development as there will be thematic sessions featuring almost 150 presentations by experts from geospatial domain and related end-user industries from across the globe. With the supports from various stakeholders and sponsors, the organisers are confident that Asia Geospatial Forum 2014 will attract good delegations and participations from all the sectors including the policy makers, stake holders, user community, researches, technology providers and academia. The conference has also recently sealed a media partnership with ASM, Sensors & System and Power Insider Asia magazines that will expand its outreach to the global geospatial community.
About Asia Geospatial Forum
Asia Geospatial Forum is a premier Asia Pacific conference and exhibition on geospatial technology and application, held annually in different countries in Asia Pacific. Since its inception in 2002, Asia Geospatial Forum has travelled to Thailand, Malaysia, China, Indonesia, Singapore and Vietnam gathering in average 800 geospatial communities across the region. The conference aims to facilitate high-level discussions on regional and global issues, with a specific goal to raise the profile and expanding horizons of geospatial industry in the region. The conference also acts as a business development platform for industry to network with policy-makers, geospatial practitioners, end- users, and academia. Visit www.asiageospatialforum.org for more information.
About Geospatial Media and Communications
Geospatial Media and Communications is a geospatial media company with a mission to create awareness about the usage of various geospatial technologies in the global arena through publications and conferences. Besides organising regional and international geospatial conferences and exhibitions, the company also maintains the largest geospatial portal in the world www.geospatialworld.net, and publish internationally-acclaimed geospatial monthly magazine 'Geospatial World'.