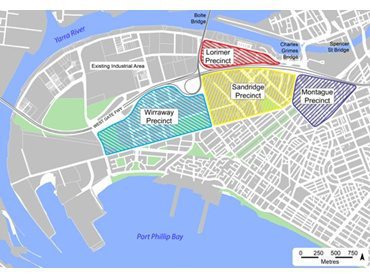 This development is at the center of the Plan Melbourne initiative that is a master plan for Victoria's growth through 2050. Theemphasis of the plan is to create transport rail links, cycling and walking links to the rest of the city.
The mix of housing options planned for the development are designed to meet the expected growth trajectory in victoria, which is expected to nearly double to 7.7 milion people by 2050 from today's level of 4.3 million. With this growth, the central city will nearly double in size, leading to a more dense and efficient city core.
The new master plan employs the Green Star guidelines for sustainability, with guidelines on design, environment, livability, economic prosperity and innovation. Like many of the city centers throughout southeast Asia, Australia has its own urban density push as the 21st century seems to be all about the city.
Learn more about the process and research here.