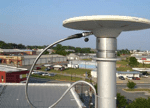 Geospatial professionals use real time GNSS networks (RTN) because they provide quick precision that saves on more labor-intensive processes while yielding high precision coordinates. Standard GNSS receivers compare the signal being sent from the satellite to an internally generated copy of that signal, but given the time it takes the signal to get to the ground there is degraded accuracy. Local permanent reference stations in a network called real time GNSS can act as an intermediary between the satellite and receiver, and can greatly increase the accuracy on the ground. This is accomplished by the local reference station's constant measurements of the distance of GNSS satellites to this base station receiver, and the relay of that more precise position to local receivers.
RTN is now widely used for surveying and other precise positioning applications. RTN can provide centimeter position accuracy, but the accuracy and reliability of the standard RTK solution decreases with increasing distance from the Base Station. Given the benefits of improved accuracy, precision, reliability, and scalability, there are a great many RTN networks of both commercial and government origins proliferating. Europe and Asia have been groundbreakers in setting up RTNs, but there are also a great many in the United States, with the numbers growing around the world.
RTN are well engineered infrastructure that are monitored for stability. There are several business models in use for RTN. These include RTN funded, developed and managed by national, state or provincial governments in a not-for-profit manner, purely commercial endeavors and public-private-partnership (PPP) arrangements.
In Malaysia, the Department of Survey and Mapping Malaysia (JUPEM) have set up the Malaysia Real-Time Kinematic GNSS Network or MyRTKnet, with 78 GNSS reference stations throughout the country. Trimble's Virtual Reference Station (VRS) is a worldwide network that provides centimeter level accuracy broadcast via cellular and radio technology, with a presence throughout Asia (Japan, China, India, South Korea, Taiwan, Malaysia, Singapore).
There are a number of benefits to RTN including their stability, calibration, redundancy as part of a network where one failure doens't degrade the whole. Additionally, all users of the system are in a common established reference coordinate frame, which assures compatibility of collections. On the limitation side, there can be some down times, you need consistent cell network coverage to access, and the availability is dependent on the network's extent.
With a growing number of RTN networks, and a growing number of GNSS satellite constellations, the assurance of high accuracy is becoming globally accessible.
References
Real-Time Network (RTN) Surveying, U.S. Geological Survey