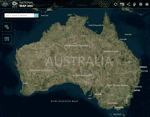 The site is in Beta mode for now, with ongoing development underway, and the expectation that it will be a production site by the end of the year. The software has been developed by NICTA using various open source software tools that include Cesium, Leaflet, Geoserver, jquery, esri-leaflet.js, and togeojson. The site has also been designed to support an open framework for geospatial data and services for commercial and community innovation.
Current data services include:
Broadband (Department of Communications): Eg broadband quality and availabiliy across Australia
Land (Geoscience Australia): Eg Gravity, land cover, magnetic image, surface geology, earthquake hazard
Surface water (Geoscience Australia): Eg streams and rivers, catchments, estuaries, boreholes
Ground water (Bureau of Meteorology's Geofabric): Eg aquifers, water table salinity
Elevation (Geoscience Australia): Eg contours, flow direction
Terrain (Geoscience Australia): Eg caves, cliffs
Vegetation (Geoscience Australia): Eg native vegetation areas
Habitation (Geoscience Australia): Eg populated places, builtup areas
Transport (Geoscience Australia): Eg roads, railways, airports, foot tracks
Infrastructure (Geoscience Australia): Eg waste management facilities, mine areas
Utilities (Geoscience Australia): Eg pipelines
Boundaries (Australian Bureau of Statistics): Eg postcode regions, local government, electoral
Lots of other data sets and services via data.gov.au
The Gov-Hack already has 1,200 people signed up for events taking place July 11-13 in Canberra, Ballarat, Mt Gambier, Cairns and the Gold Coast. The move is being enthusiastically embraced by this community as a watershed moment that will have significant impacts to policy and citizen convenience.
Visit the National Map at: http://nationalmap.nicta.com.au./
Sources: NICTA,