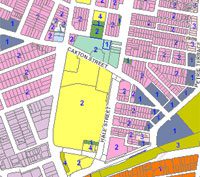 The development-friendly plan in particular has other cities taking notice as increasingly cities across the region are competing for prosperity.
One of the key elements of interest to streamline the process is an interactive map that displays the planning details on any one parcel, allowing buyers to quickly and simply understand the constraints. The mapping tool includes details on priority infrastructure, zoning, and other layers that allow you to see how the property is affected by Brisbane City Plan 2014.
There are a great many layers that are included in the map, including:
Bicycle netowrk
Bushfire susceptibility
Coastal hazard areas
Commercial areas
Extractive resources
Flood prone areas and drainages
Historical buildings
Water and wetlands
Sewer, water and storm networks
Transport air and noise quality
The interactive map also has tools to customize the map, including features that allow you to draw and measure. You can overlay aerial imagery both historical (1946) and current (2012). Users can continue to fine tune the look of their map, and then they can be printed and shared.
Source: Brisbane City Council, Property Observer