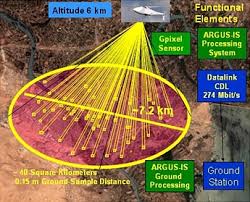 With real-time delivery, troops can fix and follow targets over a wide area, gaining insight into larger interactions. Tracing actions and routes allow for understanding origins and patterns.
Still imagery simply doesn't afford this connectivity to the unfolding situation. Understanding static imagery also requires a trained eye where details don't present themselves without some training. In contrast, full motion is more intuitive where motion uncovers action and collusion, as well as impact if not motive and means.
There are a number of interesting platforms and programs from the Gorgon Stare that captured several square kilometers to the Autonomous Real-Time Ground Ubiquitous Surveillance (ARGUS) system with coverage of more than 100 square kilometers. The U.S. Air Force Distributed Common Ground System (DCGS) now relies primarily on full motion high resolution imagery, and it is this data source and its heavy volume that is escalating the amount of raw data collected, potentially drowning analysts.
Watching motion in context is a window that builds understanding more quickly than other means. The unique dynamic nature of WAMI gives rise to informed action in a more connected manner than slow-paced and disconnected intelligence sources. Simply sharing such imagery in the close context of a specific location allows for a rapid comprehension of surroundings , actors, and patterns that can feed informed and effective action.